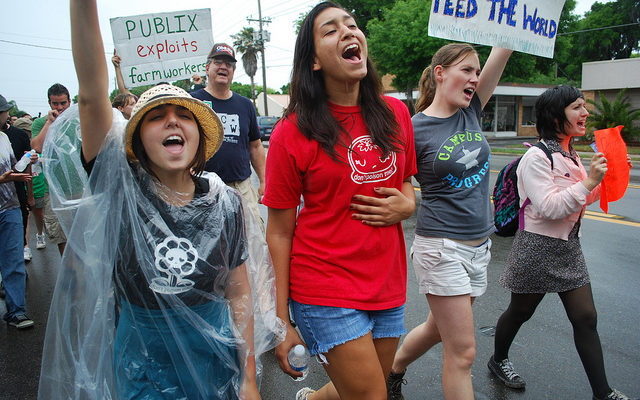 Forty-five YAYA members and supporters joined the Coalition of Immokalee Workers and over 1,000 allies from around the country for the Farm worker Freedom March in Lakeland, FL on Sunday, April 18. YAYAs came from Jacksonville, St. Augustine, DeLand, and Orlando to support the CIW in their demands for dignity, better wages, and an end to modern-day slavery in the fields.
The march was an important point in the CIW's campaign to hold Publix Supermarkets accountable for the conditions of tomato pickers. While other large corporations including Taco Bell, McDonalds, Burger King, and Whole Foods have agreed to work with farm workers, Publix continues to turn their back on the CIW. On Sunday, YAYAs were glad to join other allies in demonstrating to Publix that their unresponsiveness will not be met by silence!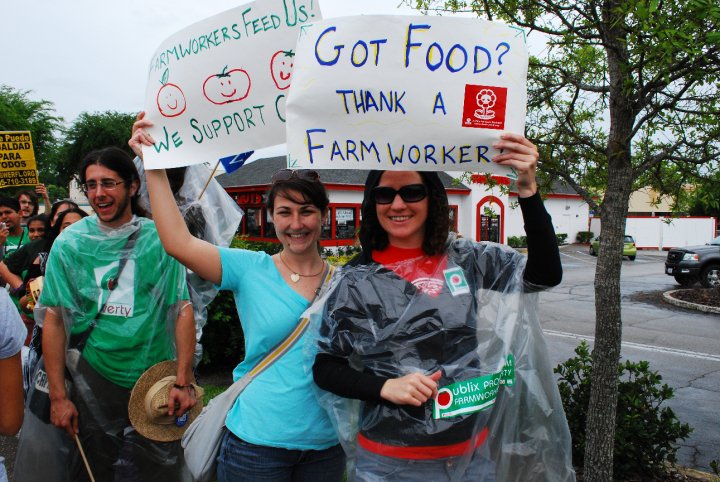 We started the day with a picnic lunch at a park in Lakeland, where YAYA members from each area shared about the projects they are working on, and new and old members got to know each other. At the park, we made some great signs to be sure Publix heard our message.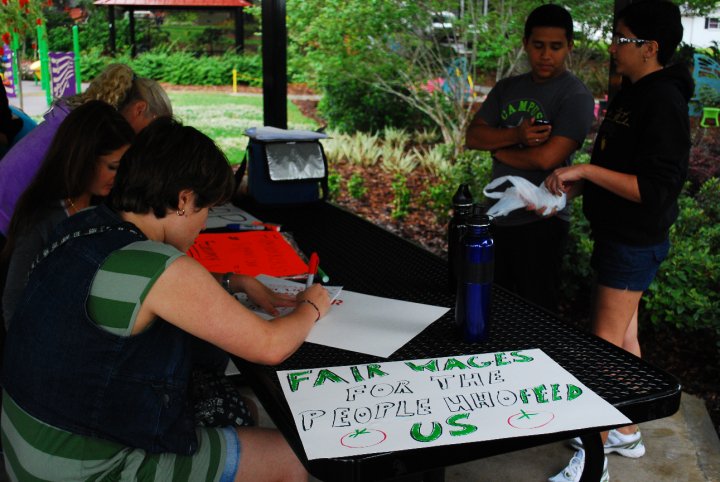 The drizzling rain at the march did not bring down the energy. We filled Lakeland's streets, marching from the initial Publix picket to the final rally and concert. YAYAs kept up the chanting throughout the march, shouting, "Down, down with the exploitation…Up, up with the fair food nation!" and "Publix, shame on you! Farm workers are people too!"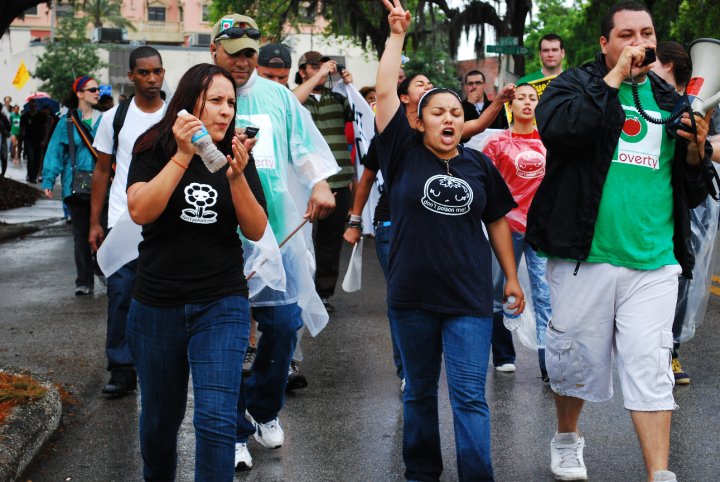 Thank you to the National Farm Worker Ministry…your support allows us to continue mobilizing young people to bring their energy to farm worker marches and demonstrations. We are sure that Publix heard us, and will continue making noise and applying pressure until Publix agrees to work with the CIW!"
Dominique Aulisio
Orlando YAYA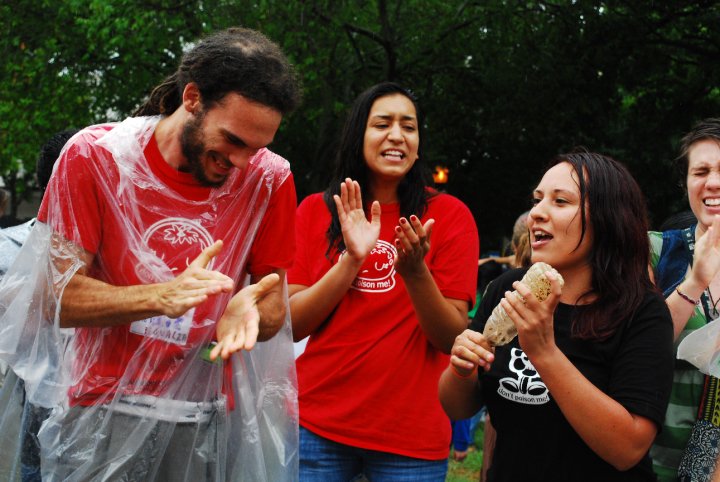 "From April 16th through April 18th we marched with the Coalition of Immokalee workers and hundreds of others to pressure Publix to pay one more penny per pound for their tomatoes.
On Friday the 16th, we began marching at a park and passed through downtown Tampa. As we passed through Tampa people cheered and came out of their homes and businesses to cheer us on. After ten or eleven miles we ended at a Publix where we picketed and chanted for change.
On the second day of marching we took to the streets for another ten or eleven miles and walked through Lakeland to the Publix headquarters where we ended with a small rally.
On Sunday, we started at a local Publix and walked a couple of miles to a final rally at a local church. At the church we listened to speakers from the Coalition of Immokalee workers and saw their Modern Day Slavery Museum. The weekend was a great experience and I think the amount of people that were marching will hopefully compel Publix to do the right thing."
Eden Martin
Orlando YAYA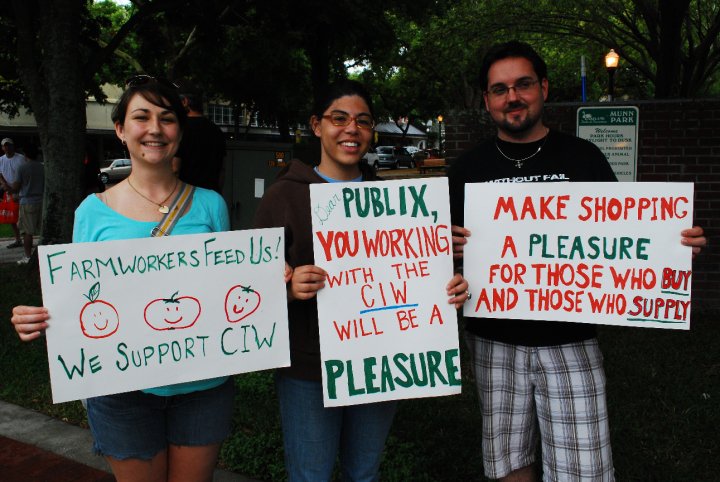 "The march started at the Publix location on Florida Avenue. The marchers came from all over; parents and children from local churches; students, members of Orlando and Deland YAYA, and other community members.
The march wasn't slowed by the rain and everyone could be heard chanting "Si Se Puede" or "The People United Will never be defeated." I enjoyed the march, we caught the attention of a lot of people during it. Spirits remained high throughout and energized everyone to continue the fight for farm worker rights!"
-James Quill
Orlando YAYA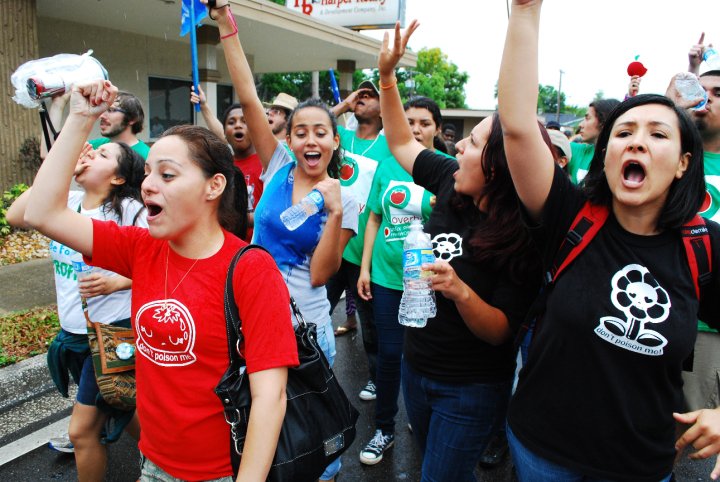 Watch a video of the march here!

Pictures courtesy of Juan Barredo and Collen Mulholland