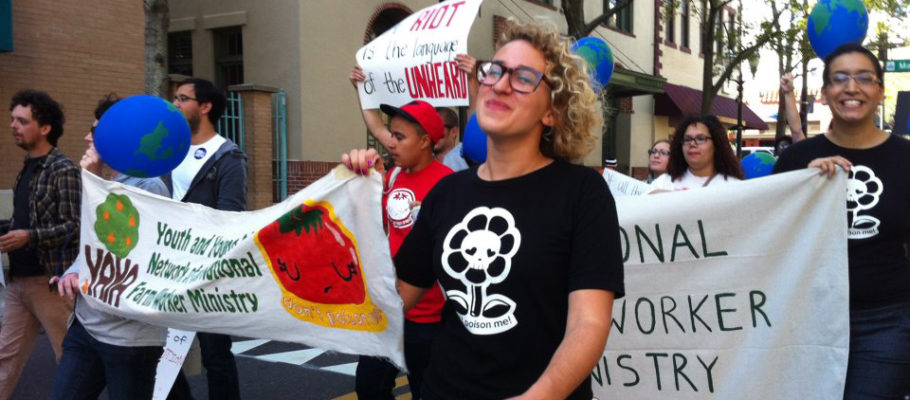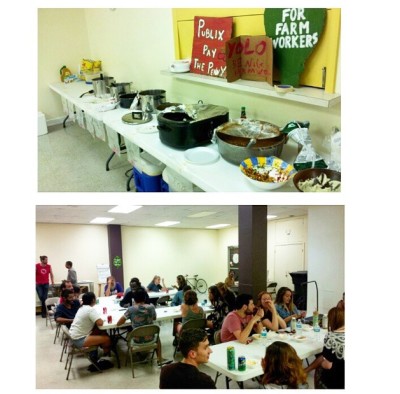 On Thursday April 16th, Orlando YAYA, our supporters, and some new faces, all met at the CWA Union Hall for a chili cook-off we planned and organized. The purpose of the cook-off was to bring community members together to give thanks to the farm workers who are responsible for the food we enjoy, raise awareness about the issues they face, and fundraise to continue the work we do in solidarity with farm workers. Based on these goals, the event was a success, and was a lot of fun!
The event kicked off at 6:30 p.m. We spent the next 30 minutes welcoming everyone, and getting to know each other while we waited for others to join us. At 7, Cristina gave a welcome and what is YAYA introduction, explained the purpose of the event, and reminded folks about the excellent prizes we had to raffle. Everyone was then invited to start digging in to the wonderful chili dishes. All the chilis were remarkably different. It seems like the definition of chili is broadening all the time! I was surely not complaining as I tried every submission. The chilis may have all been different, but they all shared one thing in common; the ingredients used to make them had all been produced by the labor of farm workers. With this knowledge in mind we not only enjoyed the delicious food, but also appreciated where it came from and how it came to be before us.
As the night progressed we had several breaks for announcing raffle winners. We were all able to reach out to a great selection of local Orlando businesses to provide the prizes for the raffle, and as consumers ourselves, we were happy to have their support. We had many winners and the raffle increased the funds we raised for this event a lot! Towards the end of the night, Jon and I joined to talk about our experiences with YAYA, specifically in regard to our continuing support of the Farm Labor Organizing Committee and our annual trip to the R.J. Reynolds shareholders meeting. FLOC continues to organize tobacco farm workers for better working conditions such as access to healthcare, something incredibly important for anyone handling tobacco in the hot sun. Jon and I ended by inviting anyone interested, to join us for this year's trip to join FLOC for the R.J Reynolds shareholders meeting, which was coming up in a couple weeks!
We ended the night with the announcement of the chili cook-off winner. The Food Not Bombs chili pulled off the victory with a delicious five-bean vegan chili with vegan sour cream and plantain chips! We gave a sincere thanks to everyone for helping us raise over $200. I was very glad to be a part of this event and look forward to future cook-offs to bring people together in awareness and celebration of farm workers!
Thank you to Communication Workers of America (CWA) local 3108 for lending us their union hall for the event and Ethos Vegan Kitchen, Austin's Coffee and Film, and Hard Rock Cafe Orlando for the awesome raffle items!
Brian Luft
Orlando YAYA