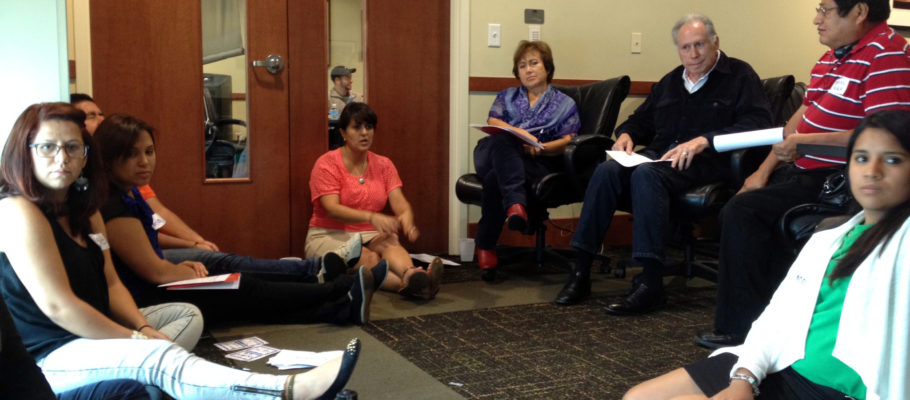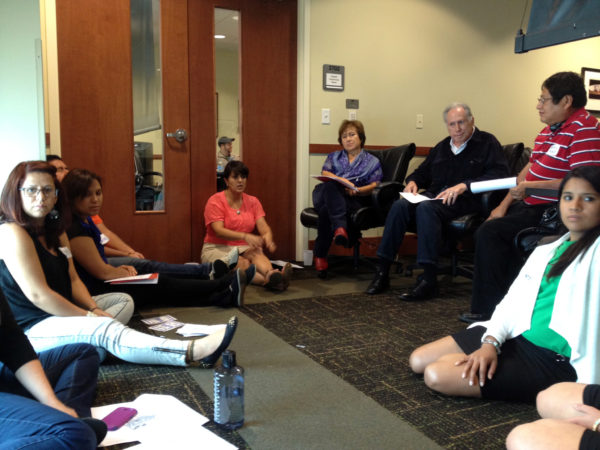 On Saturday, April 12th, YAYA member Gabriela Rios, Natalie (a member of Students Working for Equal Rights), and I traveled to the University of South Florida in Tampa to take part in the Florida Immigrant Coalition's (FLIC) regional meeting for the Central Florida area.
The regional meeting was an opportunity for FLIC member organizations and individuals to see where the work of FLIC was headed over the 2014, especially around immigration reform, identify internal and external strengths and weaknesses within FLIC, and strategize around immigration for 2014. About 25 representatives from different organizations across the Central Florida area, including the Farm Worker Association of Florida (FWAF), Young American Dreamers, and others, attended the meeting.
During the beginning of the meeting, folks were asked to breakout into groups based on county regions to come up with a chant and/or skit that is reflective of each organizations' work. The YAYAs and Natalie joined Miguel and Marcos, both FWAF-Pierson and Apopka organizers, so our task to come up with a chant – this is what we decided to do – was easy because NFWM-YAYA's work is in support of farm workers and FWAF's work is around the farm workers. Our chant was "aqui estamos y no nos vamos!" which exemplified our commitment and dedication in the farm worker movement as a united front. No matter what, we will always continue fighting!
After lunch we split up once again around some key areas FLIC wanted to discuss with member organizations and individuals. Some of these areas included internal strengths and weaknesses, external strength and weaknesses, and vision mapping. Gabi and I took part in the external strengths and weaknesses FLIC has in regards to the coalition and immigration work. All in all, it was a productive and honest meeting with FLIC staff and member organizations in how FLIC can have more of a presence in Central Florida outside of Tampa.
Regional meetings such as these allow for YAYA members to see the importance of coalition building amongst a variety of groups like labors unions, community organizations, service-based organizations and so forth. It also allows for YAYA to have a voice in a larger statewide work and continue putting farm workers on the map when discussing immigration reform and what it means for them.
Thanks to FLIC for hosting a great regional meeting this year and we look forward to continuing to support immigration reform and farm worker justice with a statewide network.
Nico Gumbs
YAYA Coordinator
Photo courtesy of Gabriela Rios