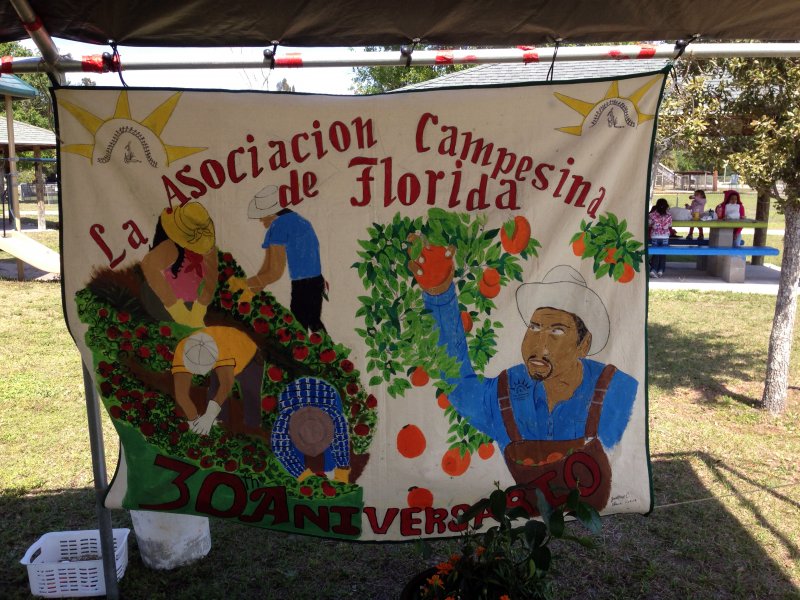 On Sunday, March 3rd 2013, YAYA met with the Farm Worker Association of Florida (FWAF) at their office in Fellsmere, for the Annual FWAF-Fellsmere's Local Assembly.
The objectives of this particular event were to elect new board members and to decide on their community's goals and what they want to work on in the upcoming year. Some of these goals included the subjects of education, health, the community garden project, and immigration reform. These goals are also meant to be discussed at the Farm Worker Association's statewide General Assembly on March 17th in Apopka, Florida.
Seven YAYA members arrived in Fellsmere around 10 o'clock am, to help prepare food and set up for the local assembly. YAYA has a long-standing relationship with the farm worker community in Fellsmere. Previously we've participated in the community garden and many other community events.
Despite the 50 degree weather, FWAF had a great time at the event. I realize that when you're committed to something bigger than yourself, you won't let anything prevent you from moving forward.
Some of the other activities of the assembly included young children performing five traditional Mexican dances for Our Lady of Guadalupe. Children also performed a play on the importance of parents feeding their children healthy food and participating in their education. YAYA helped assist with the sets during the play and also played games like basketballs, soccer, Frisbee, and sidewalk chalk with the children during the event. There was a raffle, with the prizes of a laptop, iPod, and flat-screen TV. YAYA was given a certificate of recognition for our involvement with the Community Garden Project.
After the event was over, YAYA helped to clean up the park area where the event was held and thanked FWAF Fellsmere for their time, before heading back to Orlando.
YAYA attends community-based events like Fellsmere's Local Assembly in order to build and sustain relationships with farm worker communities. This close relationship allows YAYAs the opportunity to understand some of the direct issues faced by farm worker communities as well as ways in which they can take action.
By working in solidarity with farm worker organizations like FWAF, we can change the oppressive, social political and economic conditions faced by farm workers.
Rosa Outing
Orlando YAYA