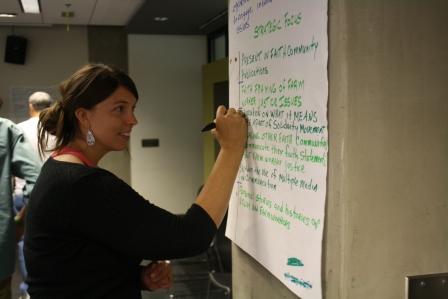 We say goodbye and a big thank you to Alexandria (Alex) Jonas, who is moving on from NFWM to a position as Development Manager at WISER International. Alex has been a big part of NFWM since 2007, even during her three year hiatus to work at Fund for Democratic Communities. From the beginning, Alex was motivated by her passion for social justice and the farm worker movement: "I continue to be amazed by the farm workers and their supporters who are among some of the most inspiring justice seekers I've ever known."
Alex came to NFWM through the Young Adult Mission Program of the United Methodist Church. After working with farm workers and indigenous communities with the Initiatives for Peace Mindanao in the Philippines, Alex was to complete her state-side mission work under the tutelage of NFWM's North Carolina State Organizer, Lori Khamala. That plan got changed when within a month of Alex's arrival Lori announced she would be leaving. With an innate Si Se Puede attitude, Alex just dug in and agreed to serve in the NC organizer role. We were all thankful that UMC mission interns didn't come wet under the ears.
Alex returned to NFWM in 2014 as Development Manager. She was instrumental in developing NFWM's new logo, website and digital and print communication and fundraising materials. Her accomplishments include developing our house party and sustainer programs. And we were especially pleased to regain her skills as a photographer.
Also during her second stint on staff Alex became the mother of Marilea and Maya, both of whom have seen their share of NFWM board meetings and pickets and rallies. We wish Alex and her family the best as they discover new ways to make the world a better place.