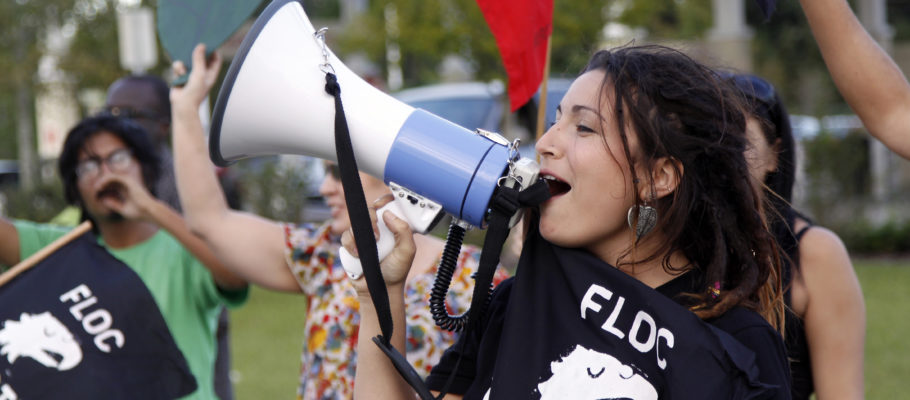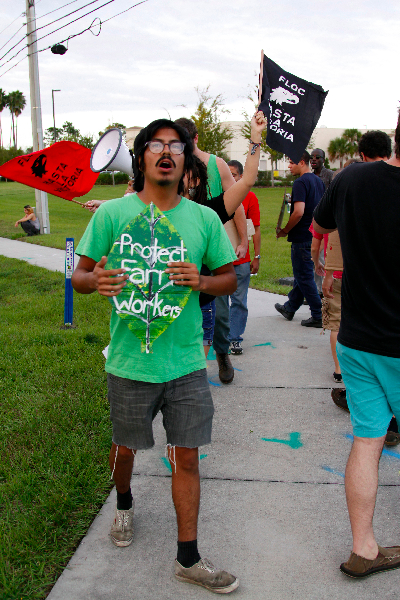 On Saturday, November 9th, around 20 YAYA's met at the WAWA store located at 2239 North Semoran Blvd. for a rally in support of the Farm Labor Organizing Committee's (FLOC) campaign against R.J. Reynolds Tobacco Company. We are continuing our work in solidarity with FLOC until R.J. Reynolds recognizes the rights of farm workers to collectively bargain and to have freedom of association.
This was a successful rally in which we were able to reach out to more WAWA consumers as they were exiting the property. By having literature and volunteers to distribute said literature, we spread FLOC's message effectively. Some new YAYA's showed off their willingness to take on leadership roles by leading us all in chants like, "Reynolds, escucha! Estamos en la lucha!" and, "What do we want?! Justice! When do we want it? Now!"
After about 45 minutes of rallying, some delegates from YAYA entered the store to drop off a letter asking the Wawa CEO to urge R.J. Reynolds to meet with FLOC in order to address these issues. Unfortunately the manager was less pleased to see us than she was last time, and last time she wasn't very pleased. Wawa managers have been very inconsistent in the way they have received us, but I believe that it is in Wawa's best interest to listen to its consumers concerns – and there is much to be concerned about.
Tobacco farm workers experience sub-poverty wages and lack shade, water, and healthcare. Having no healthcare is a huge detriment when your job has such a high risk of making you sick. As many as 1 in 4 tobacco farm workers experience green tobacco sickness from the absorption of nicotine through their skin. When you take into account that many of these workers are children under the age of 16, you can begin to see just how many problems the tobacco industry has in its supply chain, and just how much responsibility companies like R.J. Reynolds have to fix them.
FLOC is trying to address these issues, and this is why it is so important that we continue to put pressure on companies like WAWA. Gas stations that sell tobacco products, like Wawa, profit immensely off of the exploited labor of farm workers, and we, as consumers, demand that they hold their suppliers accountable.
As we continue our efforts in support of FLOC we must try to reach out to more fellow consumers who care about where their products come from, and perhaps think of new ways to engage management so that they too can be a part of changing the conditions faced by tobacco farm workers.
Brian Luft
Orlando YAYA
Photos courtesy of Vanessa DeVilbiss