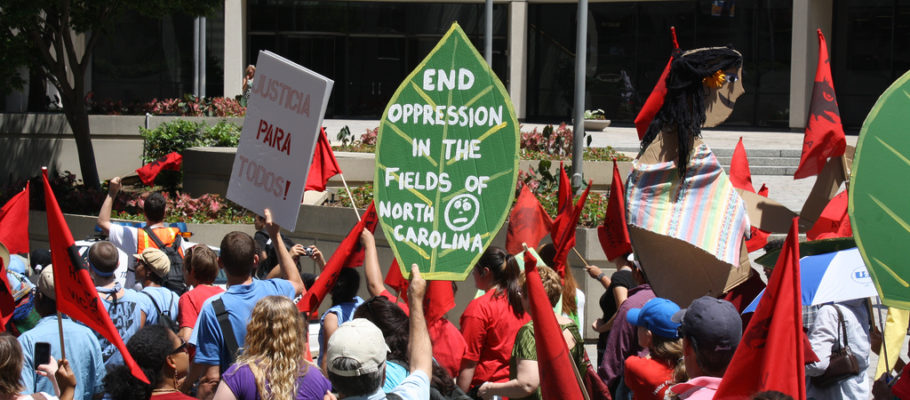 On May 6th, 2010, a group of 11 Florida YAYAs from Orlando, St. Augustine and Jacksonville traveled to North Carolina to support the Farm Labor Organizing Committee, FLOC, in their efforts to hold RJ Reynolds accountable for the exploitation of tobacco harvesters in North Carolina.
FLOC members and supporters attended the RJ Reynolds Shareholders Meeting and raised questions about farm workers' oppressive working conditions and the lack of responsibility and action by the company. They demanded a meeting between Susan Ivey, RJ Reynolds CEO and FLOC to discuss these matters.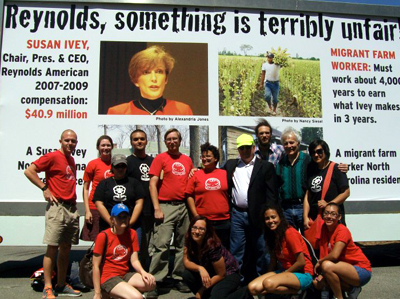 The union also organized a march and a rally to raise awareness in the community and to show that Americans from around the country support farm workers in their struggle for justice and fair working conditions.
After the FLOC action YAYAs visited the International Civil Right Center and Museum and shared a meal with the members of the New Creation Community Church in Greensboro.
Heading into this weekend I was not sure what to expect. I was not only excited to experience the RJ Reynolds stockholders meeting and the march but also developing my relationship with the YAYA's. The van ride was fun and long and the Emmanuel Baptist Church we arrived in Monroe was very welcoming.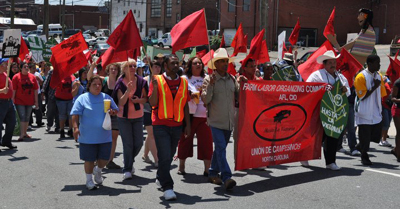 There, we met all the leaders of the National Farm Worker Ministry and FLOC. All those passioned, inspiring and powerful people were very profound and Baldemar Velasquez, FLOC's President, was very warm and dedicated to the cause. Reverend Johnson was one of my favorite activists, mixing faith with the message of equality. There were hundreds of years of activism in the room with us, the bright-eyed youth. Talking with all the seasoned adults was very important. I became instant friends with a woman named Jean who was still young at heart. We exchanged stories and passions and I knew then the weekend was going to be one to remember.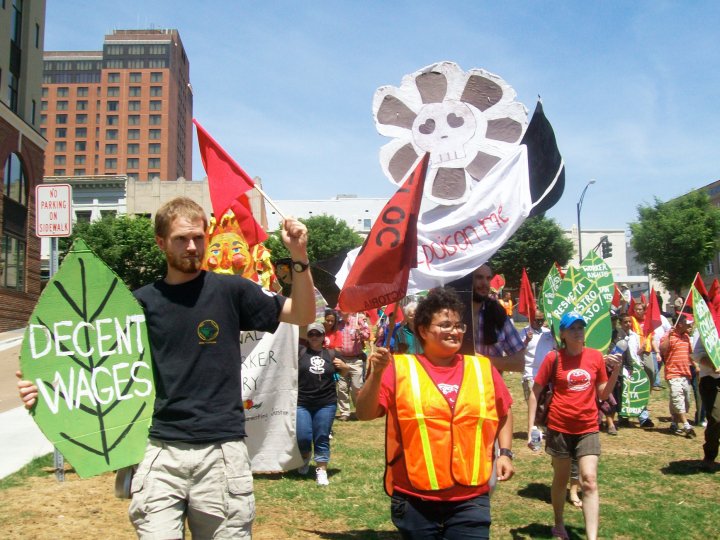 The following day we woke up early and headed to Winston Salem, where the RJ Reynolds head quarters are located. Winston Salem is a funny town, completely dependant upon this tobacco company.
Three YAYAs attended the share holders' meeting. I could feel how excited they were about this experience and their anticipation of what could happen in the meeting.
The rest of us stayed outside getting ready for the rally and marching up and down the street where the RJ Reynolds headquarters are located. Some YAYAs, including me, volunteered to be Marshals and helped set up the rally. After the shareholders meeting was over, we started the march and participated in a rally where inspiring speakers talked about the struggle of the farm workers.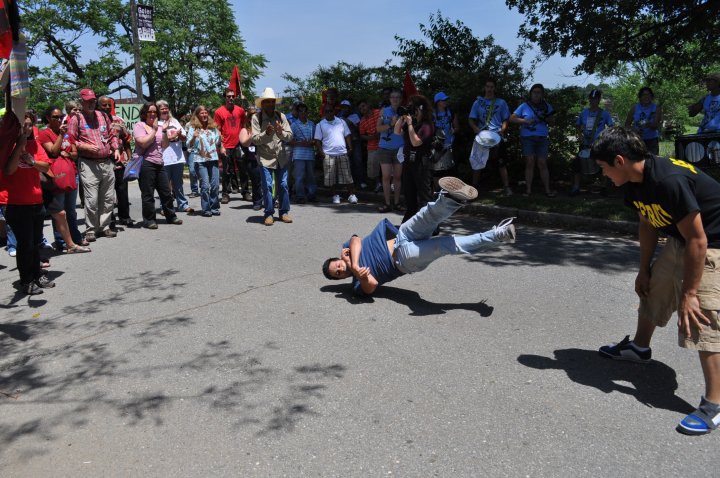 The event ended at the Lloyd Presbyterian Church were everyone danced and shared a meal. My definite highlights were helping set up for the rally and watching everyone participate. Dancing to the music of Cakalak Thunder and talking to the crowd after Baldemar spoke was also great. The range of ages from kids to the elderly was awesome to see. The march was short and sweet and between the puppet dance party, break dancers, powerful people, radical drum-liners and workers it was a great event.
After the FLOC action was over we visited The International Civil Rights Center and Museum. This was by far one of my favorite highlights of the weekend. There were so many parallels between the work YAYA's do and the movements that proceed us.
Our guide, Amelia, was fantastic! I will go back just to see her again!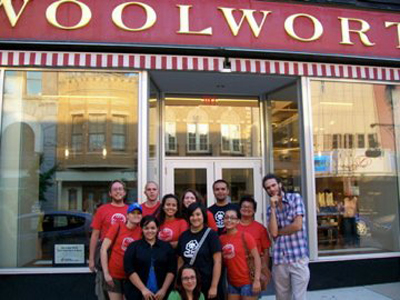 We stayed at the First Presbyterian Church of Greensboro and our host was Ryan Nilsen. He was such a genuine and kind host, allowing us to stay in the church and getting us free tickets for the museum.
At night we ate dinner with the New Creation Community Church: Rev. Frank Dew and his congregation. Good food and interesting topics were had and shared by all. The older man, Nathan was my favorite. He rocked suspenders and decades of education and stories under his belt.
We ended the evening walking downtown and spending some down time with the gang. All in all the weekend was amazing. I haven't been this excited in years for the work being done around me. Si Se Puede!
-Alicia Canessa
Jacksonville YAYA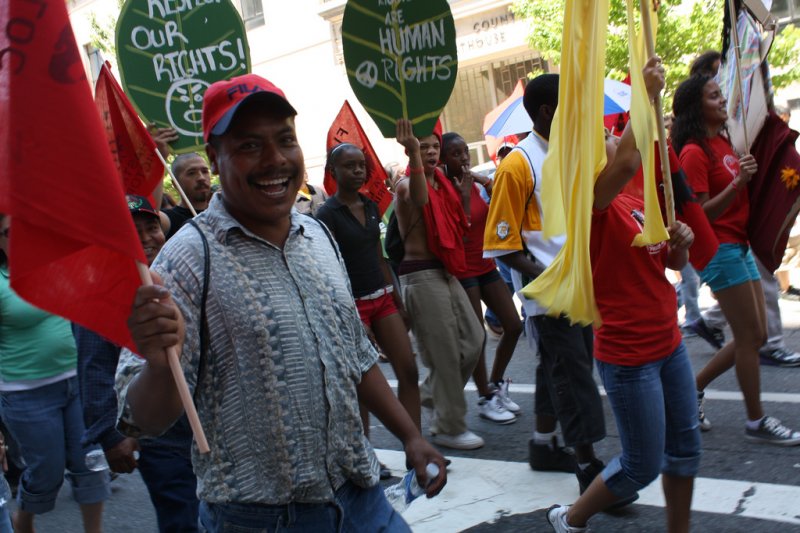 My mind is fidgeting- I feel sick in the presence of these clean cut killers, these corporate cronies playing along to this bizarre shenanigan that is a shareholder's meeting. It's my first time here on the inside so I am thrown off my feet by the macabre sterility of the place. The people and faces in the room seem desperate- shallow and sunken or stout and arrogant, they're all trying to play it cool, pretending everything is normal-you know business as usual-"blah blah, spaghetti, blah, money, blah blah, money, this bottom line." BLECHT!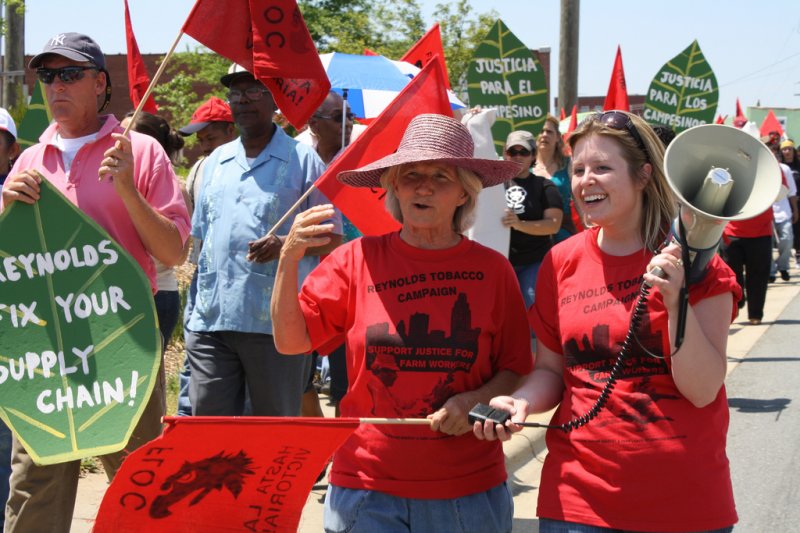 My perspective shifts as I take a deep breath to include in my awareness the people surrounding me; the mass of FLOC supporters who have quietly taken their seats, and are whispering among themselves. I see many righteous faces in the crowd and I am relieved to be in the presence of so many people demanding justice.
The CEO takes her seat and begins to mechanically deliver statistics and pleasantries, both equally contrived. After several minutes of drivel, the floor is open to shareholders and proxies for quick, monitored, and controlled inquiry regarding various yearly proposals. And this is when it happened.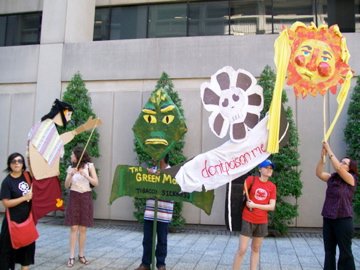 Person after person rose to the microphone to confront one of the worlds richest people with facts, anecdotes, and well crafted arguments about farm worker justice. Each speaker used their allotted two minutes to speak on various issues of human rights, environmental and health rights, and labor rights for farm workers. The assault was relentless.
Each speaker continually raised the question "Susan Ivey. Will you meet with FLOC?" When it was my turn at the microphone I was so befuddled with antipathy for this woman. How could she just sit there and listen to these tragic stories without even a shrug or grimace? I looked her in the eye and spoke my piece which ended with me pointing a patronizing finger in her face and telling her to meet with the union.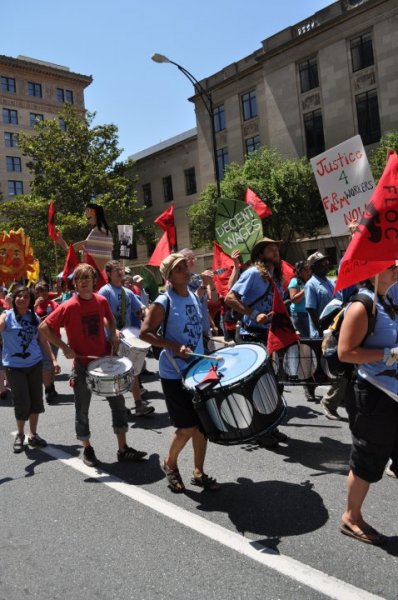 As the meeting attempted to follow its prescribed coarse the crowd continued to raise issues. There were moments of brilliance from eloquent speakers and supporters in the crowd. A young pastor spoke heavy truth to the board of the company and deconstructed their power facades in front of all who were there to bear witness. The young man's intellect dwarfed the company officials' and they were reduced to children in audience's eyes.
After enough disrespect from the board of R.J. Reynolds, who consistently tried to ignore, redirect, or lie about the issues facing farm workers, FLOC supporters turned their backs to Susan Ivey and her cronies and marched out of headquarters, singing and clapping the whole way through.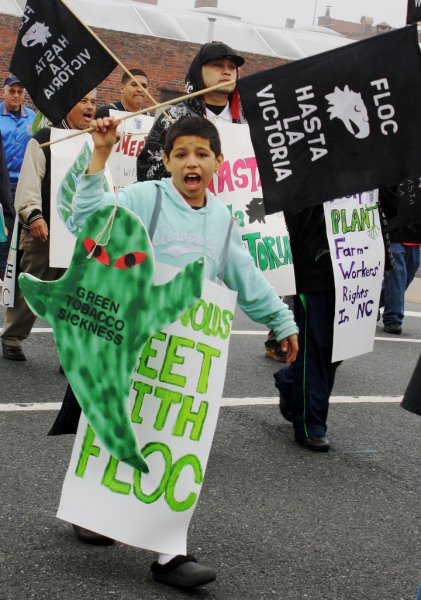 I have to hand it to FLOC, NFWM, their supporters and the communities of faith in North Carolina for showing up and taking over at this year"s R.J. Reynolds shareholder's meeting. Until we get that talk and until we get a fair contract for the workers, we're in the fight. Hasta La Victoria!
-Cole Lee
St Augustine, Florida
We would like to thank:
–Baldemar Velasquez, Brianna Connors, Justin Flores, Diego Reyes and all the members and supporters of FLOC for their hospitality and for giving us the opportunity to make history with them.
– NFWM for their continuous support which allows us to be part of the farm worker movement and to attend these events.
– Alex Jones from NC NFWM for making sure that we were comfortable during our stay.
–First Presbyterian Church in Greensboro and the New Creation Community Church, for hosting us and sharing an evening and a meal with us.
– Ryan Nilsen for hosting us, hanging out and getting us free tickets for the museum (you are awesome!)
– The International Civil Rights Center and Museum, especially our guide Amelia, for their generosity and commitment to social justice.
(Pictures courtesy of Alex Jones, Nadia Garzon and Richard Gaiser.)