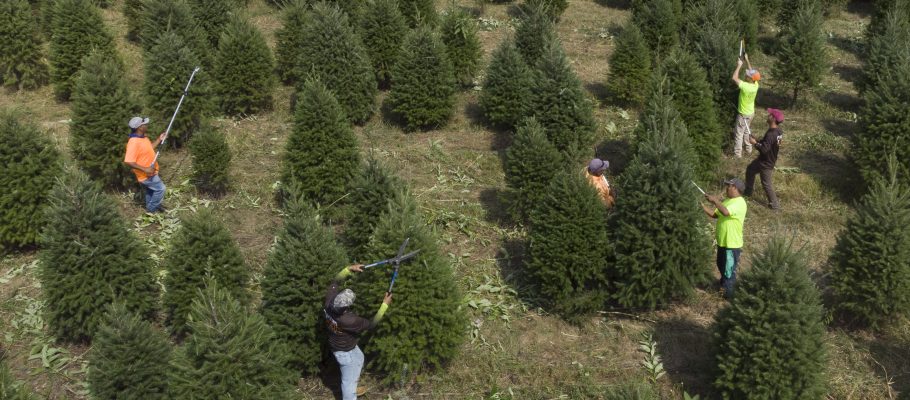 A Reflection From Julie Taylor, NFWM Executive Director
On November 20th, I joined an NC farm worker organizer and a member of the NAACP to travel to the Western part of the state to visit farm workers who are finishing their time in the US by harvesting Christmas trees for the holiday season. This is a big crop for NC. We began by going to a small strip mall that included a Dollar General, a Mexican restaurant, a laundromat, and a few other businesses that mostly closed on weekends. I observed a white school bus full of workers who ran off the bus with arm loads/plastic bags/soft-sided travel bags of clothes. They wanted to be the first inside so they could be sure they got a machine. They come every Sunday. This is where farm workers in this area go to cash checks, wire money home, wash their clothing, buy supplies, and such.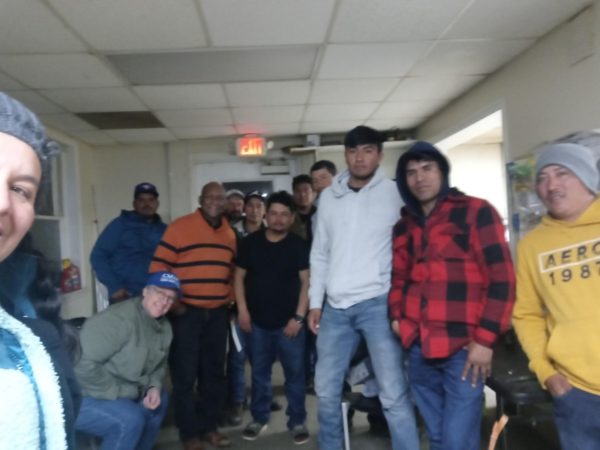 We were handing out blankets and materials. Folks joined us from the Mexican Consulate so they could hand out their materials and offer assistance with immigration, work conditions, wage theft, etc. The temperature was around 20 degrees. As I looked at the workers, I noticed many did not have coats, they mostly wore hoodies or sports tops. Then I realized, the farm workers cannot buy coats here…not from the Dollar Store. They pay $20.00 to be taken here. It's only 20 miles away. If they want to go to a mall to purchase a winter coat, they'll have to pay much more.
After handing out most of the educational material and all the blankets, we started a long drive further west to a labor camp. Along the way, I heard something that I don't often hear as the organizer shared about having to face the threat of physical violence on some of her visits to labor camps. In FL, she was chased by dogs. One grower punctured her car tires with a forklift. One time, she literally heard these words from a grower who did not want her visiting farm workers and being sure they understood their rights: "I'm going to shoot you because I can. I have so much land here that I can bury you where you'll never be found." Intimidating words from a grower brandishing a gun. She managed to avoid physical injury but it is a reality we don't often hear about. As she was sharing this, she referred to the fact that it was often helpful to have someone accompany her on these visits. As a white person, I am literally a protection for her because the violence, the intimidation is less likely to occur with witnesses. Here is where my white privilege matters more than usual.
When we arrived at the camp, we found dorm-like facilities. A long hall with rooms on either side and an opening in the middle to include a large eating, cooking, and lounging space where someone was cooking hamburgers, one after the other for a solid 30 minutes. There were also tortillas, sauteed onions, and peppers pans with food, cases of soft drinks, boxes of Frosted Flakes, sugar – 5 lb bags all over. There were at least three stoves, four refrigerators, and a small laundry room that sat off the main kitchen area with two machines in it. I was invited to sit on one of the couches. Nine men live in this space from February to October then the number swells to 30. They are required to have 10 square feet but the common areas can be included in that footage. I saw a bedroom that had two single beds with 2 to 3 feet between them but no other space. All the rest of the rooms were the same size but with bunk beds. They have cords attached to the ceilings for drying clothing.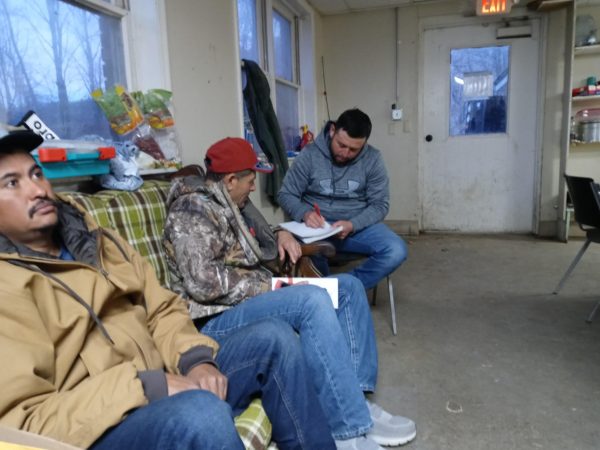 H2A workers here want to be included in social security. Many don't read their contracts, just check how much they will make and sign it. They don't know their rights. Organizers help them understand how they should be treated. For example, workers are either supposed to be provided meals for no more than $12.00 per day or given access to kitchen facilities to prepare their own meals. Drinks are not included. They're often charged $2.00 for a soft drink. Another example of their realities, they shared was that workers who were smuggled into work got $30.00 a week for 6 days from 6:00-7:00 every day. The Farm Labor Contractor managing them deducted for everything, food, transportation, exorbitant application fees, etc.. Workers at the camp told us they have come to NC for 7 years, 9 years, and 13 years. There are 17 workers in the room with us right now.
Part of the reason we were there is because NFWM applied for Covid Relief Funds with the Hispanic Federation of NC. We don't usually do this but we learned that they had funds and just needed a non-profit organization through which to distribute them. We utilized farm worker organizers in the area as consultants to help us find appropriate farm workers whose lives have been impacted by Covid. The funds arrived late but we have started the process of getting them to farm workers who need them. Distribution will continue through early next year. Not all farm workers have been impacted. One told us he did not have Covid but he needed a vaccine. The funds we have don't cover that, I wish they did.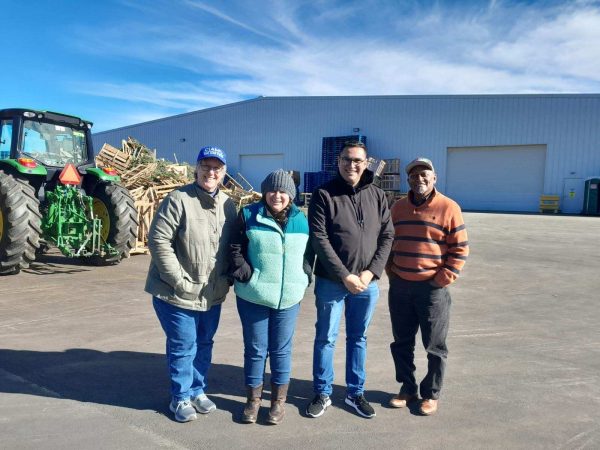 A highlight for me in this labor camp visit was watching one of the farm workers, Tereso, bond with the person with us who came from the NAACP. When he heard about the NAACP, he asked what sort of organization it was and was told they advocated for people of color. Immediately, he reached out to our companion, Steve, and hugged him for working against racism. He tried to practice his English with us, still very rudimentary but we could follow some of it. Tereso told us, as he pointed at Steve, "I speak a little English. He speaks a little Spanish. It's beautiful. Tereso is a welder in Mexico but it is more profitable to come to NC to work. He lives near his mom in his home country. She makes breakfast for his two kids. He spends at least 6 months apart from them.
It's important to be here. These relationships are important. Farm workers need to know that there are folks like us who are interested in their welfare, their rights, their vulnerability and that we want to protect their right to organize. It is important to be here so they can see our solidarity with them. It is important to be there to hear their stories…and then to share them with you. That's what NFWM does. We connect people of faith and conscience to the farm worker movement. Join us in this work.