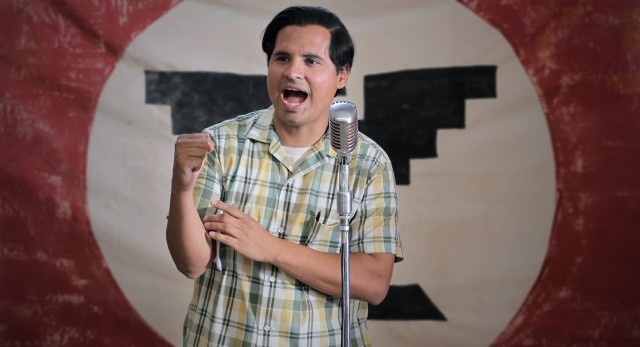 The award winning movie, Cesar Chavez, makes history by opening in theaters nationwide on March 28th! Sneak peeks were released all over the country and the reviews are rolling in. His Eminence, Timothy Cardinal Dolan, Archbishop of New York stated:
"I finally had the chance to watch Chavez, and it was worth the wait! I've always considered him a prophet, preaching and exemplifying the best in Catholic social justice and American civil rights. This fine movie only confirmed that high estimate."
Actress Rosario Dawson, who plays Dolores Huerta in the movie, stated, "This film is not just a celebration about historic movement in our time, it is not just a history lesson. It's a provocation." She hopes that the next time people sit down for a meal, they will contemplate who picked their food (www.nbcnews.com).
Cesar Chavez is obviously worth the trip to the theater on opening weekend, but so is the NFWM Swag Bag that you could win by participating in our Pack the Theater Selfie Contest!
The NFWM Swag Bag contains:
2 Cesar Chavez movie buttons
1 Cesar Chavez movie 16oz travel cup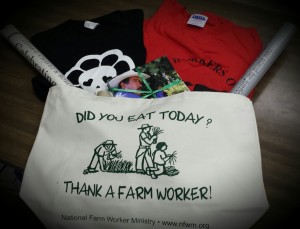 1 Red UFW T-shirt
2 Cesar Chavez Posters
1 Black NFWM Youth and Young Adult (YAYA) T-shirt
2 YAYA Stickers
2 NFWM "Thank a Farmworker" Magnets
1 Pack of NFWM Farmworker Picture Notecards
1 NFWM "Thank a Farmworker" Canvas Shopping Bag
Start practicing your group picture poses now and make sure to check out our Pack the Theater Selfie Challenge information here! Your support of this film is crucial to both its long-term success, and the ability to spread the word about farmworker issues across the country.
Show your commitment to farm worker rights by signing the Cesar Chavez Foundation's Commitment to Promote Cesar Chavez today.
Kelli Sue Davis Communications and Development Director kdavis@nfwm.org