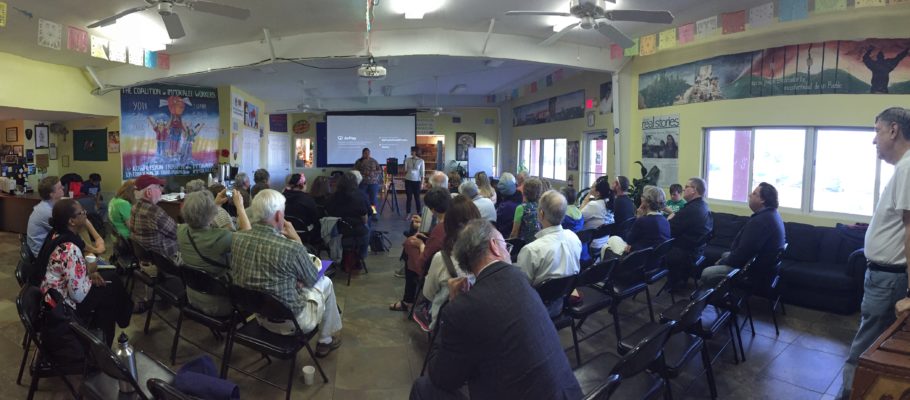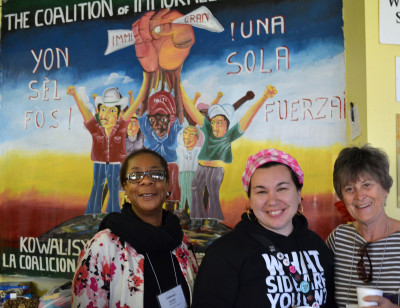 From January 29th-31st I ventured to Ft. Myers, FL for the National Farm Worker Ministry's (NFWM) Winter Board Meeting. This being my first ever board meeting I was really excited to meet everyone and be engaged in the this process that takes place every six months. Before we got down to business we loaded everyone into two 12-passenger vans and cruised over to Immokalee to visit with the Coalition of Immokalee Workers. This was an opportunity for us to learn about the progression of their Fair Food Campaign, witness the many changes that have taken place over the years, and even make a visit to one of the first growers to sign the Fair Food Agreement.
We were greeted by Lupe Gonzalez of the CIW and Claire Comiskey from the Alliance for Fair Food who spoke to our group that morning. They took us through the history of how the CIW was formed when workers wanted to collectively fight back against the many abuses they were experiencing in the fields. The key issues they touched on were physical abuse, sexual harassment, poor working conditions, sub-poverty wages, and modern day slavery. This is what led to the creation of the worker written code of conduct to be implemented under the Fair Food Agreement and putting pressure on major buyers of tomatoes to pay a penny more per pound. Then they highlighted the premiere of the Food Chains Film that sheds light on their current battle trying to get Publix to sign on and how they're going to continuing putting pressure on them through efforts such as the big Spring Action coming up in March.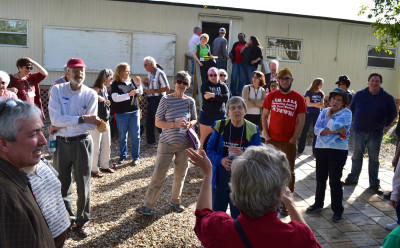 Now it was time for folks stretch their legs and go on a walking tour of Immokalee to see the housing workers occupy during the season where 12-15 people will live at one time and pay exorbitant rent rates while still lacking basic amenities. Then the group returned to enjoy awesome fajitas from Mr. Taco for lunch. Once our bellies were full we went over to Pacific Tomato Growers to discuss with them what its been like for them since they've implemented the Fair Food Agreement on their farms. They highlighted that its greatly improved the relationship they have with their workers, its educated them on issues they didn't know workers were facing and ways to improve them, and they've even worked to implement some of these standards on their farms outside the state of Florida.
Following the visit with the growers our trip to Immokalee was coming to a close and we went back to the hotel to unwind and prepare for the board meeting proceedings the next day. The board meeting was a full day consisting of campaign updates regarding the farm worker organizations NFWM works to support, motivation and discussion about moving forward with this work in 2015, staff reports, and several other orders of business. Board members were given a space to reflect on our trip to Immokalee since it had been many years since most of them had visited or some were going there for the first time. Most noted were many changes and accomplishments the CIW has made over the years.
During the staff reports myself, along with our YAYA Coordinator, Nico Gumbs lifted up some major events YAYA had over the last six months. Nico discussed their experience at this years Florida Immigrant Coalition Congress and I spoke on mine during the Food Chains Premiere and Publix rally which all took place in one jam packed weekend. I was tremendously excited to be able to share some of the incredible and important work YAYA has done with the board members. Young folks such as ourselves put in a major amount of work in solidarity with farm workers even within in the span of six months and I was honored to represent for my fellow YAYAs in illustrating that work. It was amazing to be surrounded by the older generation who have been involved in this movement for decades. But it was powerful for me to be able to lift up the younger generation who are putting in work and who are ready to inherit the future.
I'm extremely grateful to have had this opportunity and am left with a new fire to keep building up young people and the future of this movement. It was also a great time to build inter-generational bonds within this work. Let's keep building together.
Check out more photos on NFWM's flickr!
Heather Bryan
Orlando YAYA