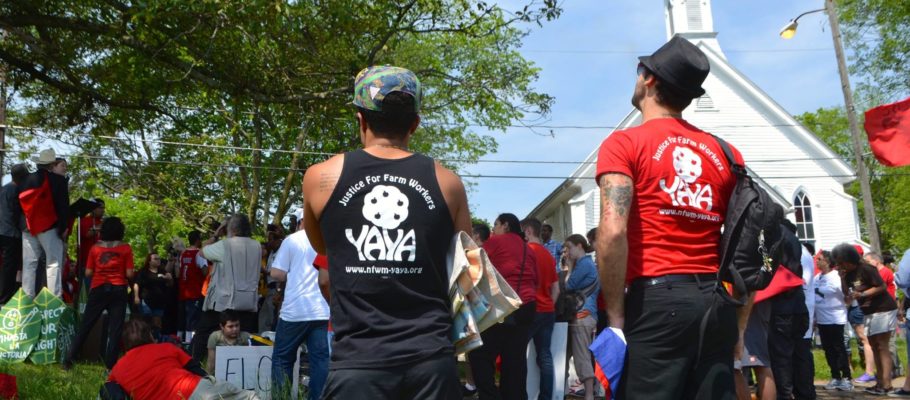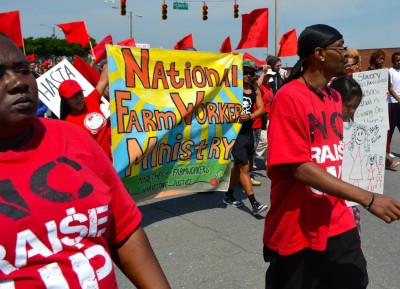 On Tuesday, May 5th, 6 YAYA members traveled to Greensboro, NC to take part in the March on Reynolds/ RAI Shareholders meeting in support of the Farm Labor Organizing Committee's campaign guaranteeing freedom of association and collective bargaining for tobacco workers throughout NC. Upon our arrival in NC, Wednesday we rested from our long drive and reviewed 2 organizing trainings and a campaign review of FLOC since most of the attendees were new to the cause. Nico facilitated trainings on how to introduce YAYA-NFWM to others as well as what it meant for YAYA to stand in solidarity with various farm worker-led campaigns. The trainings were very insightful and helped to organize my thoughts around how YAYA is structured and the support we give to each campaign.
On Thursday, YAYA was involved in the March on Reynolds by having 5 of our members as a part of Reynolds American, Inc. shareholders meeting, 1 member joined the picket, and all members joined the march through Winston-Salem. In the shareholders meeting there were two proposals, the first shareholder proposal was on Disclosure of Green Tobacco Sickness and the second on Suppression of Forced Labor and both did not pass by incredible amounts. Our chapter's role during the shareholders meeting was to ask questions provided by FLOC during the Question and Answer Period. During the picket and march, YAYA's role was to represent YAYA while calling on the company to sign an agreement guaranteeing labor rights, specifically freedom of association and collective bargaining, with FLOC.
Right after the shareholders meeting there was a picket happening outside on North Main Street. Everyone whom participated held different signs with words targeted at RJ Reynolds and others that were affiliated with a particular organization had their own signs representing their organization while supporting FLOC. After the shareholders meeting, everyone from the meeting joined the picket followed by a march through Winston-Salem. During the march, there were a lot of visuals used by participants like t-shirts and signs that stated "Hasta La Victoria," which means Until Victory, "Respect Our Rights," "We're all equal no matter what!!!" and so forth. Some of the chants chanted were "I believe that we will win," "Hey hey (hey hey), ho ho (ho ho), unfair wage has got to go," and "Everywhere we go (everywhere we go), people wanna know (people wanna know), who we are (who we are), so we tell them (so we tell them), we are the workers (we are the workers), mighty mighty workers (might mighty workers)." The chanting went on throughout the whole march calling attention from the open businesses and walkers of the streets. The most significant moment was after the march where we debriefed and all the organizations that participated spoke about their social movement and why they were in support of the March on Reynolds. The last speaker was FLOC's very own President Baldemar Velasquez. The President thanked and motivated everyone and in his own words "and when you get tired, go home and rest, get up the next day because the sun rises the next day and you can fight another day…"
Our last day in NC was spent with FLOC in Dudley, NC. There we met with FLOC staff and President Velasquez to debrief about the campaign and the March on Reynolds that took place the day before. Each person had a chance to share their experiences about being inside the shareholder's meeting and the feeling of disgust and confusion amongst most of us. How can one corporation be so indifferent about the way these workers are treated in their supply chain? With all their revenue it almost seems counter-intuitive to their company's repertoire to go against the grain and not sign the agreement with FLOC. After our conversation, we headed out to a farm to talk with some workers about their experience with the union and Reynolds. A lot of the workers admitted that they are unsure of who exactly buys the tobacco but named Alliance One as a middle company between big tobacco and small growers.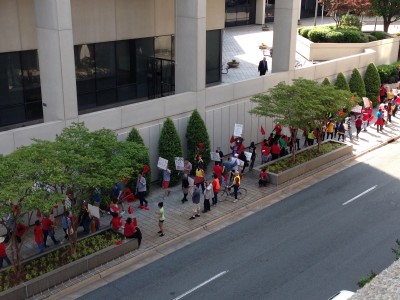 This action was necessary because eighty percent of the fruits and vegetables we consume daily are still handpicked by our farm workers worldwide. This fight is for all farm workers but this one specifically was for our tobacco pickers. Through this action, FLOC was calling on RJ Reynolds to sign and agreement with them that guarantees farm workers labor rights in their supply chain. This is the eighth year in which FLOC has been pressuring tobacco companies to sign this agreement. This issue is affecting farm workers because tobacco farm workers live in poverty, face nicotine poisoning, exposure to pesticides, horrendous housing in labor camps and denial of basic human rights and labor protections. FLOC and their allies have had some accomplishments, for example, in April 2014 when President Velasquez attended the British American Tobacco's (BAT) Annual General Meeting in England where two members of the British Parliament agreed to visit the fields in North Carolina. That was a big accomplishment considering BAT owns nearly forty-five percent of RJ Reynolds' shares/corporation. Also, in May 2014 Phillip Morris International, the largest purchaser of tobacco products in the Southeast, agreed to meet with FLOC, which was another accomplishment. As President Velasquez said, for this campaign to be successful we will "fight harder and bigger and more forceful until they [RJ Reynolds and other corporations] do those things that they say nobody says they will ever do because they will, I guarantee you they will."
This action contributes to YAYA because YAYA is a national network of young individuals actively working to change the oppressive social, political, and economic conditions of farm workers by organizing their communities in support of farmworkers, educating people and institutions about the conditions facing farm workers, and mobilizing them to support their campaigns for justice. This action contributes to the farm worker movement because tobacco pickers are farm workers who face as many injustices as all other farm workers. YAYA's stance is to support FLOC by raising awareness about issues faced by tobacco farm workers through traveling to North Carolina to join FLOC at the annual Reynolds American Tobacco shareholders meeting and being a part of the march as well as plan local actions in Orlando at convenience stores who generate most of their profits from the sell of tobacco products.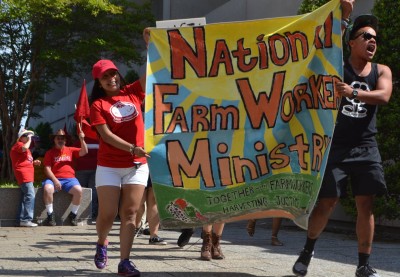 I, Mercedes Sanchez, learned enough about tobacco farm workers and RJ Reynolds while on this trip in which I was completely ignorant about. I realized how dangerous the circumstances tobacco farm workers encounter while in the fields and not only that, even at home whenever that should be the safest place for everyone. Tobacco pickers suffer from various conditions out in the fields including heat exhaustion, pesticide intake, dehydration, lack of protective gear, nicotine poisoning, and run the risk of getting Green Tobacco Sickness. I learned that RJ Reynolds is not that smart of a corporation because they have to have specialized people to answer our questions since they themselves are not intellectual enough about such information when asked. I had mixed emotions during the meeting where at times I felt disgusted and at other times I was confused with some responses. It was important to me to be a part of this action because I wanted to learn more about YAYA, FLOC, and the issues that tobacco farm workers face. This issue touches me because I come form a farm working family and I have been around most of these injustices throughout my time as a farm worker, and my family still faces these injustices. I also realized that I enjoy going out there and being a part of these social movements, which I recently realized after being a part of the Parade for Fair Food in St. Petersburg, Florida with the Coalition of Immokalee Workers. People can join me in taking action in solidarity with farm workers by simply accepting my invitation and going out to these marches, meetings, and organizing.
All in all, we would like to thank the Farm Labor Organizing Committee for allowing us to be a part of this social justice movement. And a BIG special thanks to First Baptist Church of Greensboro for housing us during our stay in NC.
Mercedes Sanchez
Orlando YAYA