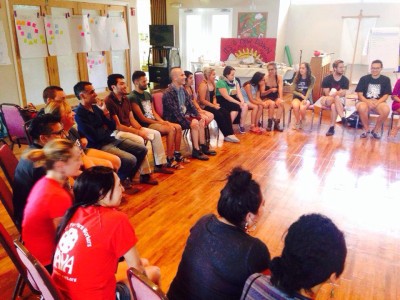 Consciousness plus commitment equals change is the equation that is now imbedded in my brain after learning from and building with the Coalition of Immokalee Workers (CIW) this past weekend at the Student/Farmworker Alliance's (SFA) #2014Encuentro. Gabi and myself were among the 70 youth, students, and other allies working to support and cultivate the fight for Fair Food. This 4 day convergence was broken up into workshops, strategy sessions, relationship building, discussions about solidarity, and making commitments.
The weekend commenced with a theatrical performance put on by the CIW and the help of Encuentro participants to convey the coalition's history and how it began with the abuses workers faced in the fields that led them to organize. As a result of the harsh conditions tomato pickers faced in Immokalee, workers created a code of conduct and an oversight process to ensure that their working conditions were to improve and on their terms. This turned into the Campaign for Fair Food where major buyers of tomatoes sign an agreement to increase farm worker wages by a penny more per pound of tomatoes and enforce more human standards on those farms. Of course this was and has been met with resistance but that didn't stop farm workers and students from partnering together to launch the first initiative against major buyer Taco Bell with the Boot the Bell Campaign in 2001.
We took note from the victory of this campaign that led Taco Bell to sign the Fair Food Agreement and paved the way for a slew of other successes to incorporate into building the current Boot the Brains Campaign against Wendy's. The bulk of the weekend was used to strategize and sharpen our skills to bring a new energy to this campaign. We broke up into our respective regions and schools that have a Wendy's on their campus to strengthen our relationships and devise a course of action to Boot the Braids. Once our commitments had been made it was time to exercise those commitments at 120 person action that started at a Naples Publix and turned into a march down highway 41 to a nearby Wendy's. A delegation led by Lupe Gonzalo of the CIW delivered a letter to the manager urging Publix to sign on to the Fair Food Program. The rest of us formed a colorful picket line booming with chants letting them know that we're not going anywhere until tomato farm workers are recognized, treated as human beings, and are given the pay they deserve. Keeping the momentum up we marched down the road where we continued to chant and picket while Nely Rodriguez of the CIW led the other delegation inside the Wendy's to deliver a letter to their management demanding that they sign on as well. Each team gave their report backs of how they were met with disdain and indifference but made sure the message was delivered loud and clear: we're not going to stop fighting until Publix and Wendy's sign on.
Once everything was winding down and we assured each establishment that "we'll be back!" we reconvened at Cornerstone United Methodist Church for dinner and Cafe Cultura to perform special talents and break out into a dance party. The following day we revisited and reflected on the commitments each of us made to bring back to our communities, campuses, and groups. I personally left the Encuentro feeling re-energized with a new fire in my belly to guide me to further the battle for fair food and the ultimate fight for farm worker justice.
I'd like to express tremendous gratitude to everyone I met, grew with, and learned from, and those who worked hard to make this 2014 Encuentro possible. Huge shout out to Cornerstone United Methodist Church of Naples for housing us, the folks that fed us, and Sanjay Rawel director of the film Food Chains for allowing us to have a special insight and screening of the film. Be on the look out for this film that highlights the CIW when it premieres November 21st in select cities or have it brought to a city near you!
Now that I've gathered all my new knowledge and skills the work in solidarity with farm workers continues!
Heather Bryan
Orlando YAYA