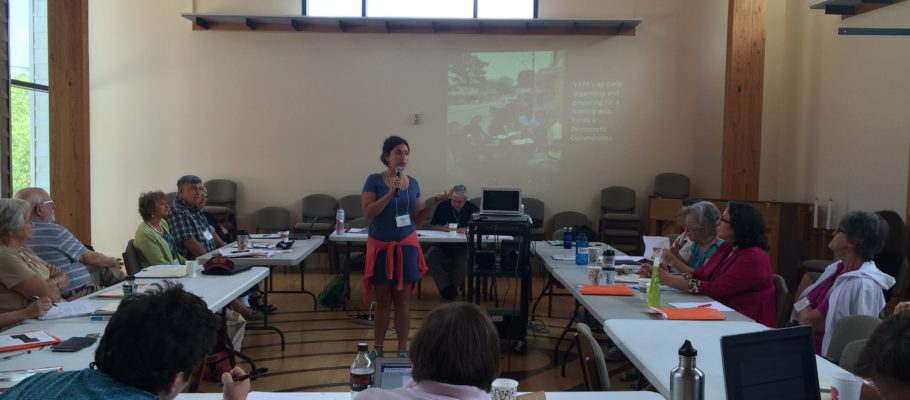 The weekend of August 15-16, 2014, National Farm Worker Ministry staff, board members and guests gathered at Pullen Memorial Baptist Church in Raleigh, North Carolina for the 2014 Summer Board Meeting.
On Friday morning, board members held a short service of blessing for the new national office now located at 112 Cox Avenue in Raleigh. Following the office blessing, Rev. Lindsay C. Comstock was formally installed as National Farm Worker Ministry's newest Executive Director. Comstock began her work with the ministry in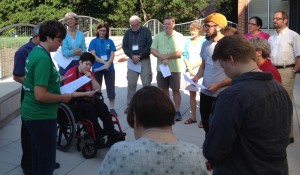 August of 2013 following the retirement of Virginia Nesmith.
The Friday morning session consisted of farm worker campaign updates, an educational session on farm worker partners for new board members, as well as a Q&A time about the afternoon's activities. After lunch, caravans left for Dudley, North Carolina to meet up with leadership from the Farm Labor Organizing Committee. FLOC Founder and President Baldemar Velasquez offered an ethusiastic update on the summer sign-up campaign and also shared about upcoming actions in support of tobacco farm workers.
After lunch, FLOC organizers led NFWM staff, board members and guests on area camp visits. Participants were astounded at the conditions many tobacco, sweet potato and watermelon farm workers must endure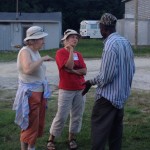 during the harvesting months. Farm workers readily shared of the hardships they endure in America's fields while attempting to provide for their families.
On Saturday morning, staff and board members gathered for the business session of the board meeting. Growth and expansion were a theme of both staff and committee reports.
Saturday evening consisted of a dinner to benefit National Farm Worker Ministry. Thanks to the gracious hospitality of Pullen Memorial Baptist Church, NFWM staff and board members played host to more than 100 area guests. The evening program included Felix Garza, Board President, who shared what it was like growing up in a farm working family – Rev. Lindsay Comstock, Executive Director, who offered a compelling history of and vision for the ministry in 2014 – Sylvia Campbell, Board Vice President, who challenged all to give and give generously. The NFWM Volunteer of the Year Award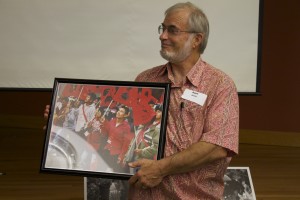 went to Dave Austin, member of Eno River Unitarian Universalist Fellowship in Durham, North Carolina for his years of support both for farm workers and the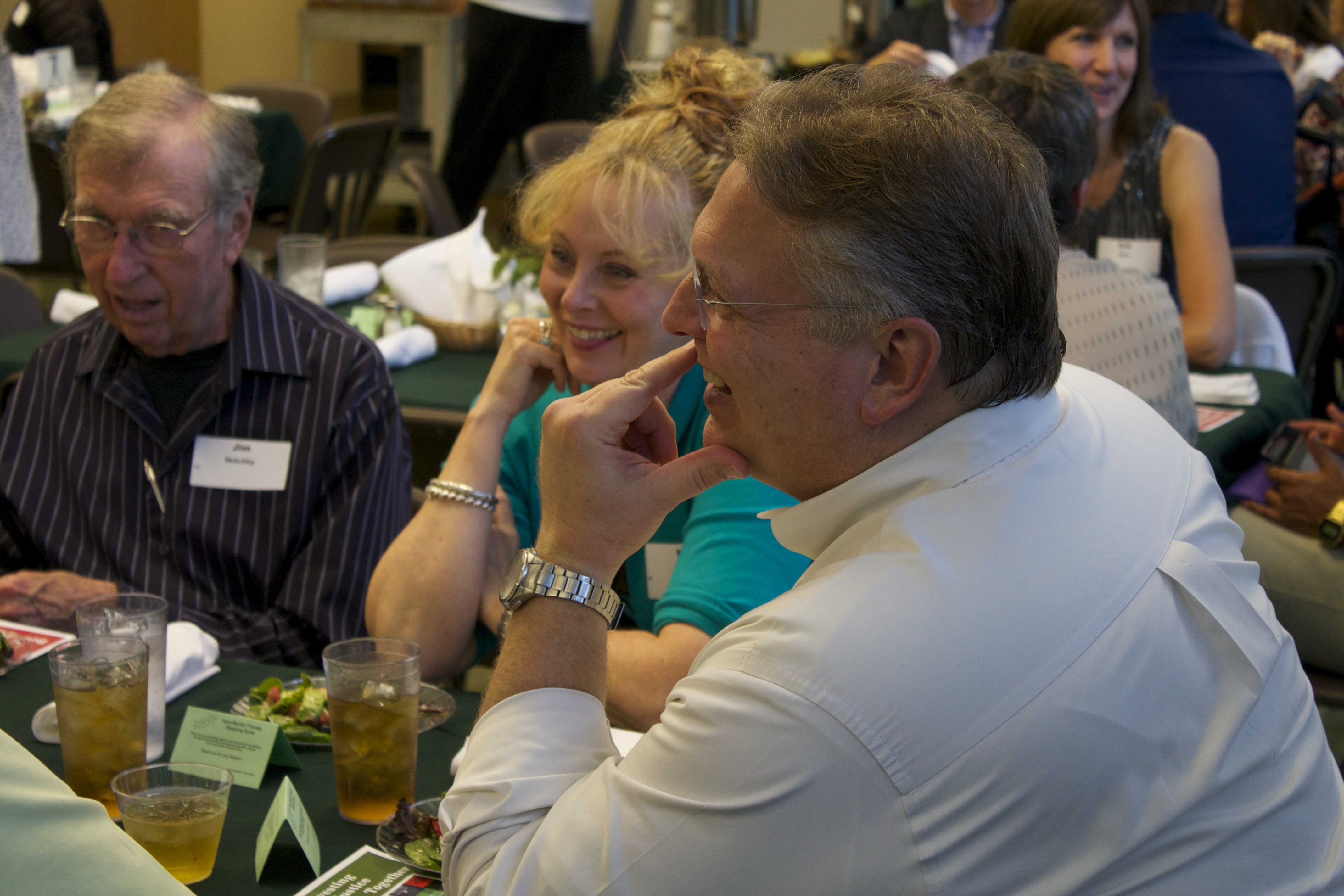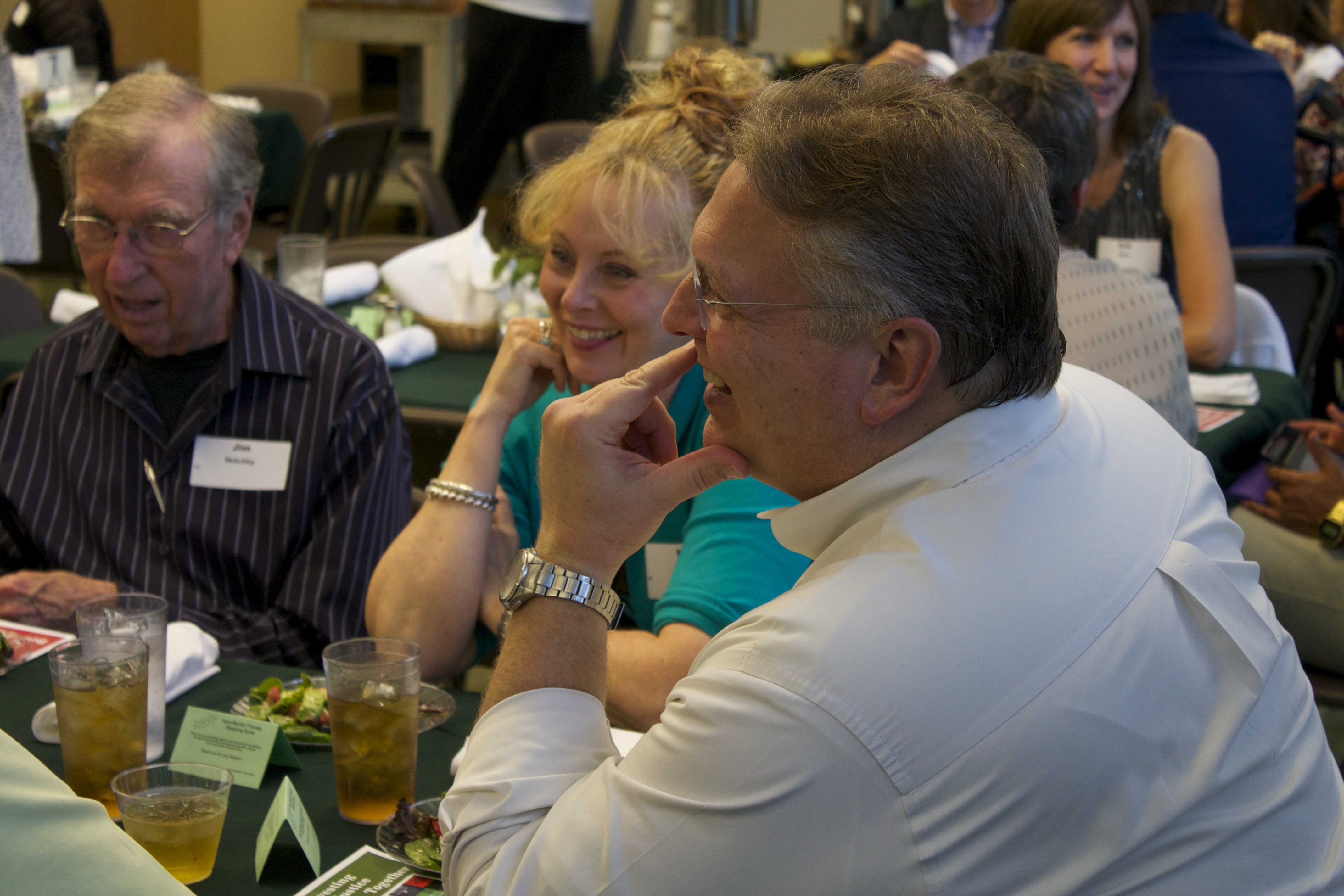 ministry. Austin was presented with a framed picture and a NFWM t-shirt.
Saturday evening's benefit dinner was an enormous success! Farm worker advocates both seasoned and new reached deep into their pockets and raised almost $9,000! Thousands more came in following the event from those who could not attend but wanted to show their solidarity. At present, supporters have given just over $20,000 to support the mission and vision of National Farm Worker Ministry!
For more photographs of the 2014 Summer Board Meeting and Benefit Dinner, visit our Flickr page.
For YAYA reflections on the Board Meeting and Benefit Dinner click here and here.