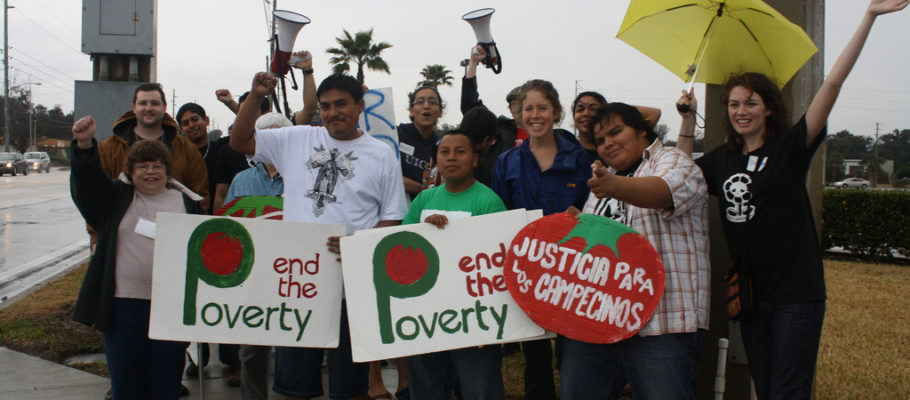 In this issue:
---
1. 2009 Achievements
We want to thank you for your support during the year of 2009! Thanks to YOU we have been able to organize and to participate in many events, presentations, rallies and projects to support farm workers!
You have already been a part of this struggle. Perhaps you sent a postcard, participated in a rally, signed-on to a letter, sponsored a speaker or
attended a presentation. We thank you for your solidarity.
Now we ask that you take another step and support the work of the National Farm Worker Ministry and its Youth and Young Adult Network with your financial contribution. Thanks to your support, this year…
YAYA supported the Coalition of Immokalee Workers (CIW) by distributing fliers at Food Inc movie
screenings that were sponsored by Chipotle and by attending and mobilizing people for rallies in Orlando and Lakeland in support of the CIW's fair food campaign against Publix Supermarket.
YAYA continued to collect, fix and deliver bicycles for farm workers that can't get driver's licenses due to their immigration status or that cannot afford to buy a car due to low wages. To date we have delivered more than 200 bicycles!
YAYA organized presentations about farm workers and their communities with the purpose of inspiring action and participation among the attendants. These events included a conference in California about heat deaths and the history of the farm worker movement, an open mic night in Winter Park, and a presentation about CIW and FLOC in Orlando.
YAYA connected with thousands of people by participating in events
like the Harvest of Hope Festival or the 2009 ELCA Youth Gathering.
YAYA also collected hundreds of signatures for petitions and post cards that supported farm worker campaigns and efforts to protect their rights.
YAYA launched its new website and t-shirt and sticker designs!
All of this was only possible because of your support. Thank you. We depend on people like you to continue our mission.
Today we need your help more than ever. Please make a contribution today.
---
---
1. Take Action!
Help Protect Children From Toxic Pesticides. Take Action.
Tell Nature's Partner's affiliates what Giumarra is up to. Take
Action.
Oppose Methyl Iodide in California. Take Action
Stop Siddiqui in the Senate. Take action

This Christmas bring toys, clothes and food to the closest farm worker organization! All of these organizations are celebrating Posadas (Mexican Celebrations) this month and they need your help.
Alliance of Active Women: 2110 N US Hwy 17 Seville Fl. 32190, Volusia County.
For more information contact Ana Bolanos.
Farm Worker Association Apopka: 1264 Apopka Boulevard, Florida 32703.
For more information contact Jeannie Economos
Farm worker Association Homestead: 450 Davis Parkway, Florida City, FL, 33034.
For more information contact Elvira Carvajal.
---
---
3. YAYAs in Action!
Check out what we have been up to lately!

---
---
4. YAYAs Online!
Visit our YAYAs in Action blog to learn more about our most recent projects and events.
---