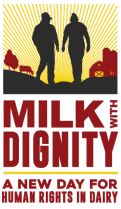 Migrant Justice's Milk with Dignity Program is bringing about a new day in the dairy industry. The program brings together farm workers, farmers, buyers, and consumers to secure dignified working conditions in dairy supply chains. The Program enlists the resources of food industry leaders, such as Ben & Jerry's, that have made legally-binding commitments to protect workers' human rights. Those participating buyers provide a premium to participating farms that agree to work towards compliance with the labor standards in the Milk with Dignity (MD) Code of Conduct. The premium supports farms' compliance with the Code and rewards farms that comply.
The Milk with Dignity program is now fully operational in Ben & Jerry's northeast dairy supply chain, covering 100% of the company's dairy volume. However, the program will not end with Ben & Jerry's. Migrant Justice has already begun exploratory discussions with several other major dairy brands, including Hannaford Supermarket, and farm workers are gearing up to expand the Milk with Dignity Program to secure the rights of thousands more dairy workers. As workers declared when signing the agreement with Ben & Jerry's, Milk with Dignity is bringing about "a new day in dairy; a new day for human rights."
---
---
Program Elements
The Milk with Dignity approach to domestic fair trade seeks to implement a worker-authored contract while leveraging certification, supply chain negotiation, coalition building, and supply chain policy.
In contrast to the labeling-centered approaches of existing fair trade certification schemes, Milk with Dignity pursues a vision of fairness put forward by the farm workers themselves. For this reason, Milk with Dignity does not use labels.
Participating Farms in the Milk with Dignity Program are paid a premium to support and reward compliance with the Code of Conduct.
Participating Farms agree to:
Work with Milk with Dignity Standards Council (MDSC) and workers to comply with the Milk with Dignity Code of Conduct labor standards

Permit access to program education to ensure workers understand their rights and responsibilities

Allow workers to access MDSC's support line and work with MDSC to resolve any complaints that come up

Collaborate with MDSC's Code compliance audits, complaint investigations, and implementation of corrective action plans to make steady progress to come into compliance
---
History of Milk With Dignity
After years of "putting out fires" in defense of Vermont dairy worker's rights on a farm by farm basis, Vermont farm worker members of Migrant Justice decided it was time for a systemic solution with the capacity to drive industry wide change. In 2014, Vermont dairy workers conducted an in-depth survey to document the top workplace and housing issues in the industry. Workers then converted these worker's rights and housing violations into solutions in the creation of the Milk with Dignity Code of Conduct — defining the human rights essential to a dignified workplace and fair housing.
---
Additional Resources:
Learn more about Migrant Justice.
Read about farm worker conditions in dairy farms in Vermont outside of the Milk With Dignity Program.