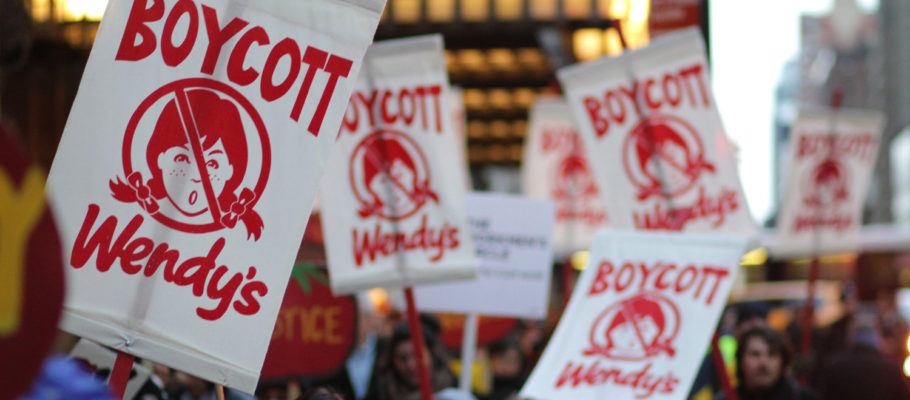 The warm sun was bright and a cool breeze in the air made for perfect walking weather. Julie Taylor (NFWM's Executive Director) put the mile march and public action ahead of us into context,"
"Hear the plight of your people in the fields O Great Sower of seeds, Pruner of vines, Harvester of justice. Listen to their voices cry out for relief, cry out for opportunity, cry out for respect. And answer, we pray….Give us the audacity to proclaim to those in powerful places like business and politics and law enforcement that we must listen to farm workers.…Hear our prayer this day and every day as we pray in the Spirit of Love and Justice and Peace. Amen."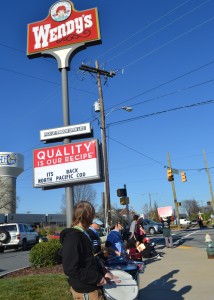 Twenty-five folks came out to the Wendy's near the University of Greensboro's campus. We were joined by people of faith, Pilgrims, students and Cakalak Thunder, North Carolina's radical drum corps—they kept the protest groovy with their cool samba beats.
We passed out flyers to the many drivers and passers-by during rush hour. We spoke to the manager of the store who'd not been aware of the Coalition of Immokalee Worker's Fair Food Program, nor Wendy's long-time refusal to join it. While they expressed confusion as to why their store was the target of the picket since they were "just a franchise" (a common response from stores in other chains that have since signed onto the Program), they were supportive of the idea of better wages and conditions for farm workers. We asked them to tell their district manager about our event at their store. Check out the Greensboro News and Records' article about the event here.
Afterward, the group came together for dinner at Alex & Eric Jonas's house (courtesy of Chipotle, a Fair Food Partner) to watch the film, "Food Chains." Folks filled their bellies, learned a lot, got inspired for more action!
There will be ANOTHER PICKET FOR CIW in Greensboro at the Wendy's by Guilford College (4805 W Market Street) on Saturday, April 9 at 6pm, coordinated by Guilford College students. If you're in the area, c'mon out and support! Email ajonas@nfwm.org for more information.