A message from the United Farm Workers: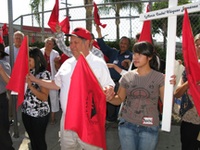 "An epic battle by farm workers to implement their union contract with a giant Central Valley grower — reminiscent of 1960s farm labor struggles — plays out before the Los Angeles City Council Wednesday morning. Be a part of this important event by sending an email today so City Council President Herb Wesson can show his colleagues the support this resolution is receiving when it hits the council chambers.
Even as state prosecutors press their case before a judge at a Fresno hearing over charges of flagrant labor law violations by Gerawan Farming Inc., hundreds of Gerawan workers from Fresno County and L.A. supporters will press at City Hall for this resolution. It calls on one of the nation's largest tree fruit producers to honor a contract issued last year by a neutral mediator and approved by the state. Gerawan, which sells its Prima-label fresh produce in L.A., is avoiding millions of dollars in pay increases and other benefits by refusing to honor the contract.
On Wednesday, Gerawan farm workers plus labor, clergy and community activists will pack the council chambers for the 10 a.m. hearing taking up the resolution introduced by Councilmember Paul Koretz. (See resolution)
Just as in the days of Cesar Chavez, Gerawan workers are taking their struggle for justice out of the Central Valley and into the cities, to "the court of last resort," the American people.
Los Angeles has always been a stronghold for farm workers. The L.A. City Council is stepping up to support these workers. They hope other cities across the country will follow L.A.'s lead.
Will you please send your email today to LA City Council President Herb Wesson, and add your voice of support? Let him know that Los Angeles' example will serve as a beacon to the rest of the nation."
Thank you for your support of the UFW and Gerawan workers!