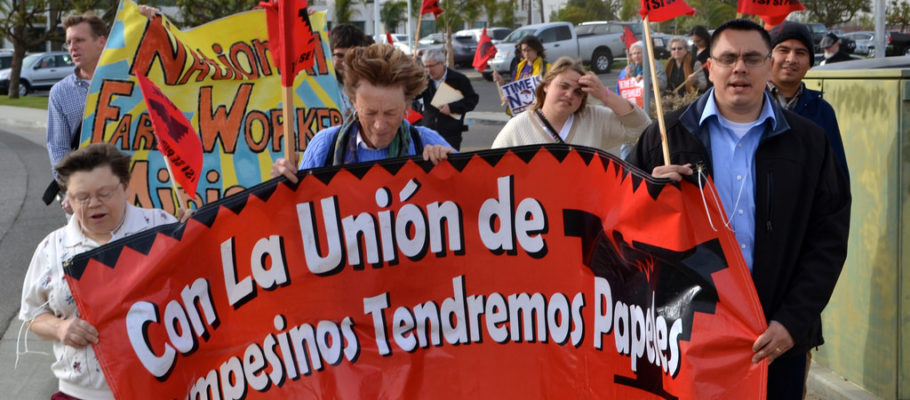 A message from the United Farm Workers (UFW):
"Gerawan Farming workers are excited. Support for their campaign is growing. On Tuesday, March 31, Cesar Chavez's birthday, the San Francisco Board of Supervisors will debate and vote on a resolution telling Gerawan, one of America's largest tree fruit producers, to honor a union contract issued in 2013 by a neutral mediator and approved by the state. Gerawan, which sells its produce under the Prima label, is avoiding millions of dollars it owes thousands of workers in pay increases and other benefits by refusing to honor the contract. Honor Cesar's legacy of fighting for farm workers by sending your e-mail in support of the Gerawan workers today!
Hundreds of Gerawan farm workers plus many labor, clergy and community activists will march to City Hall and then pack the Board of Supervisors chambers for the 2 p.m. hearing on the resolution authored by Supervisor David Campos.
Just as in the days of Cesar Chavez, Gerawan workers are taking their nonviolent struggle for justice out of the Central Valley and into the cities. San Francisco has always generously supported farm workers. The March 31 action by the Board of Supervisors will follow similar resolutions recently enacted by the Los Angeles City Council and the L.A. Unified School District Board of Education calling on Gerawan to obey the law. Other cities, including Washington, D.C., will soon follow their lead.
If you're in the area, please join the Gerawan workers' march and be with them at San Francisco City Hall. Whether you can or not, please send your email today to Supervisor David Campos. Let him know the best way to honor Cesar Chavez is to support the farm workers whom he dedicated his life to serve."