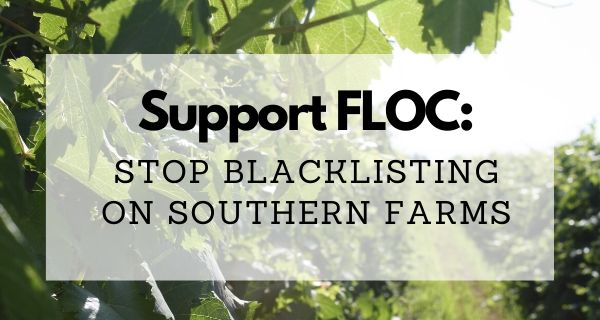 In the midst of a pandemic, the work for farm labor rights is more important than ever. The Farm Labor Organizing Committee (FLOC) is asking us to help eliminate blacklisting on Southern farms by signing
this petition.
In 2019, nineteen farm workers attempted to negotiate their working conditions at OJ Smith Farms, Inc. in Whitakers, NC and were subsequently blacklisted. Since Phillip Morris International (PMI) and Universal Leaf buy tobacco from that farm and have made the claim that their suppliers abide by rigorous standards, we are seeking to bring this inconsistency to their attention. We also want to point out that they push lower prices and stricter procurement standards from growers but do not require labor rights or collective bargaining for farm workers who do the work. In fact, these companies have cut contracts with union growers and increased their purchasing from growers who violate the law and from overseas farms where farm workers are exploited. All this while they remain some of the wealthiest companies in the world.
Call on PMI and Universal Leaf to live up to their own standards, end human rights violations in their supply chain and help the farm workers and FLOC negotiate their jobs back in 2020.