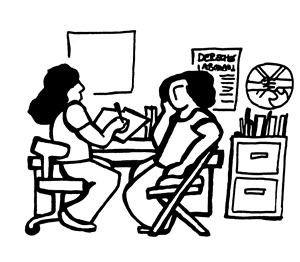 Immediate Job Opening (Full-Time)
Florida YAYA Organizer
(Orlando, Florida)
The National Farm Worker Ministry (NFWM) is a faith-based organization committed to justice for and empowerment of farm workers. YAYA is NFWM's youth and young adult network.
NFWM/YAYA educate, equip and mobilize member organizations, other faith communities, groups and individuals to support farm worker led efforts to improve their living and working conditions.
In the US, nearly 2 million farm workers work in our orchards and fields, plant nurseries, dairies and feedlots. Even though we depend on farm workers' labor to eat, farm workers earn very low wages, suffer exposure to pesticides, and in extreme cases, are victims of modern day slavery. Isolated and excluded from some of the laws protecting other workers, farm workers rely on the solidarity of concerned consumers and allies to achieve a measure of justice in the fields.
You can help change the food industry so that farm workers are safe and can live with dignity. Join our team of dedicated organizers and supporters!
The chief responsibility of the Florida YAYA organizer is to educate, equip and mobilize youth and young adults in Florida regarding farm worker issues. To accomplish this, this person will:
Connect with youth through:

Denominational youth and young adult programs (post-high school),
College campuses,
Social justice organizations,
Congregations,
Community organizations,
Seminaries.
Organize youth and young adults into YAYA chapters:

Provide immersion and person-to-person experiences with farm workers;
Provide trainings, materials and support so that YAYA members can educate, equip and mobilize others to support farm worker campaigns and organizations;
Facilitate YAYA in establishing relationships with farm worker communities and participating in farm worker related campaigns, projects and events;
Assist YAYA members in carrying out fundraisers for YAYA chapters.
Establish a state network of YAYAs who are not in chapter areas; provide them with educational materials related to farm workers and opportunities to participate in actions.
Coordinate events in support of farm worker campaigns, including actions, presentations and meetings, educational delegations to elected officials, volunteer opportunities with farm workers, and letter writing campaigns.
Provide input for national YAYA communications including e-newsletters, YAYA website reports and social network outreach.
Plan an annual YAYA gathering in Florida.
Work with the national office of NFWM in cooperative efforts that further the work of YAYA and NFWM in Florida.
Job Requirements:
College degree preferred
At least two years organizing experience in social justice arena
Passion for social justice issues and commitment to NFWM mission
Fluency in English and Spanish preferred
Ability to relate to young adults and people of diverse cultures and faiths
Experience in public speaking and excellent writing skills
Computer literate, experience using social networking
Have a vehicle and driver's license; willing to travel in Florida and occasionally out of state
Willing to work nights and weekends
Ability to work with others and as part of a state and national team
Able to adapt to changing work situations and needs; flexible; positive attitude
Salary: Based on experience. Benefits included.
To Apply:
Send a cover letter, resume and references to nfwm@nfwm.org by Wednesday February 8th, 2012. Put "Florida YAYA Organizer Job" in subject line.
If you have any questions regarding this position e-mail nfwm@nfwm.org