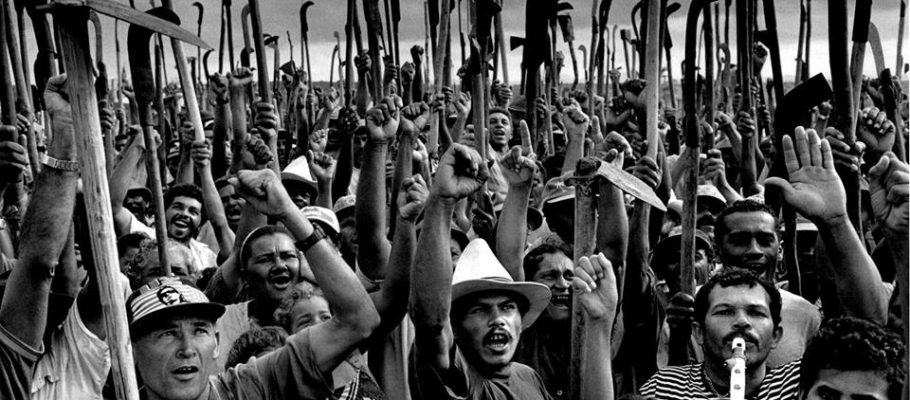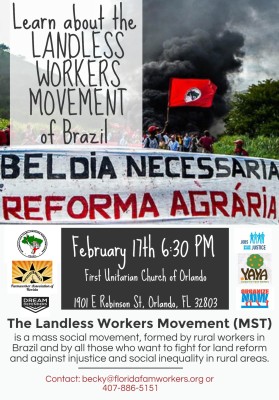 Join Orlando YAYA-NFWM and come learn about the Movimento Sim Terra (MST) or the Landless Workers Movement of Brazil from an MST activist currently visiting Orlando!
The MST is a mass social movement formed by rural workers and all those struggling for land reform and against injustice and social inequality in rural areas. Learn more about them here: Friends of the MST
MST activist, Leo Xavier, is visiting with the Farmworker Association for three months as a part of a strategic exchange program between MST and FWAF. Leo is learning about the unique struggles and victories of farmworker and other rural communities here in Florida, while sharing the history and victories of their struggle in Brazil.
Come be a part of this historic exchange! We will have light refreshments =]
The event will take place on Wednesday, February 17th, at 630 PM at First Unitarian Church (Robinson St., Orlando, FL 32803).
This event was made possible thanks to Farmworker Association of FL, Central FL Jobs with Justice, Dream Defenders – ORL, OrganizeNow, F.I.R.E (FL Institute of Reform and Empowerment) and First Unitarian Church of ORL.