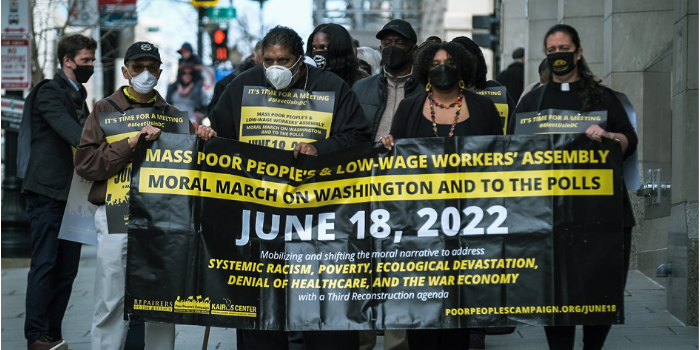 The June 18, 2022 Mass Poor People's and Low-Wage Workers' Assembly and Moral March on Washington and to the Polls will be a generationally transformative and disruptive gathering of poor and low-wealth people, state leaders, faith communities, moral allies, unions and partnering organizations. National Farm Worker Ministry is a mobilizing partner for the march and we want you to join us.
NFWM stands in solidarity with the Poor People's Campaign because we both:
Protect immigrant communities and recognize their vital role in our society

Demand living wages and economic security for all workers

Believe in the right to free association and the right to form and join unions

Work to protect and secure health care (and health protections) for all

Declare climate change a national emergency

Want secure housing for all persons

And so

much more
June 18 is NOT just a day of action. It is a declaration of an ongoing, committed moral movement to 1) Shift the moral narrative; 2) Build power; and 3) Make real policies to fully address poverty and low wealth from the bottom up.
Take action and join us in DC! RSVP today and select the National Farm Worker Ministry as your mobilizing partner. And contact us at nfwm@nfwm.org to let us know you'll be there.