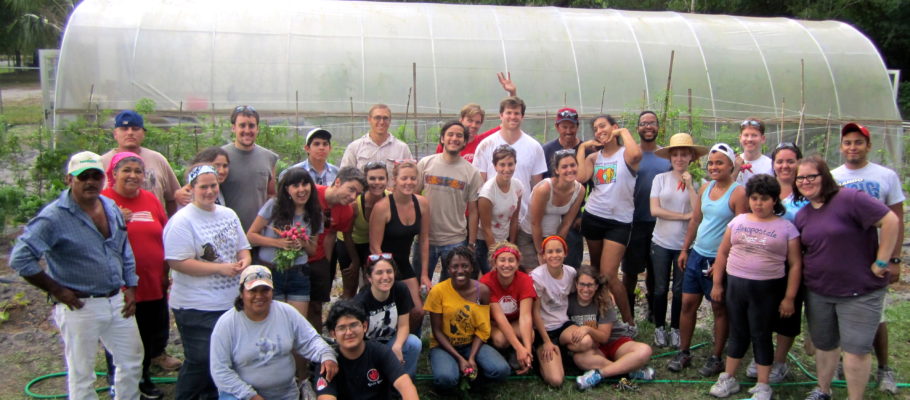 Join us for a day of education, community building and fun in Fellsmere! We will work on the community garden, participate in the Mexican Independence parade, and canvass to register people to vote!
When: Saturday September 15 from 7:00 AM – 7:00 PM
Schedule:
7:15 AM – Meet @ NFWM office
(4420 Parkway Commerce Blvd, Suite A, Orlando, Fl, 32808)
7:30-7:45AM- Breakfast and introductions
7:45AM- Depart from NFWM office
9:45AM-Arrive to Fellsmere
10:00-11:00 AM-Participate in Mexican Independence Parade
11:00 AM-12:00 PM-Voter Registration
12:00-12:45 PM- Form into canvassing groups/have lunch
1:00-3:00 PM – Canvass
3:00-5:00 PM – Garden
6:00 PM – Depart Fellsmere to Orlando
The community garden project aims to provide an opportunity for members of the Orlando community to work with and develop a relationship with members of the Farmworker Association of Florida in Fellsmere. We do so by creating spaces for open dialogue, story sharing, and an opportunity to exchange skills and knowledge!
Please bring comfortable shoes, clothes you can get dirty, water bottle, insect repellent, and a GREAT attitude!!!
The Fellsmere Community will be feeding us two meals so please bring the recommended donation of $10. There will be vegetarian and vegan options!
Additionally, they are looking for a weed eater so if you are able to donate one that would be awesome!!
If you have any questions please contact us at ngumbs@nfwm.org