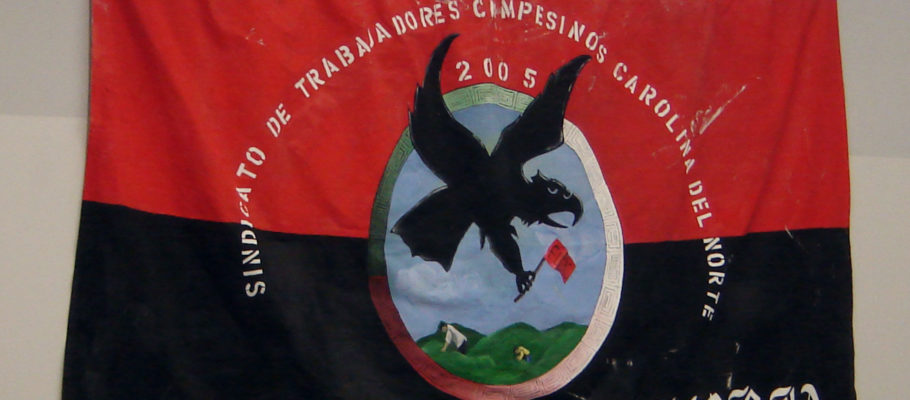 The Farm Labor Organizing Committee is looking for one full time staff and two summer interns to assist with FLOC's farm worker organizing efforts in North Carolina. If you are interested, please e-mail Briana Kemp at bkemp@floc.com for more information.
---
Position: Field Staff
Type: Full time
Salary: based on qualifications
Location: Dudley, North Carolina
Starting date: As soon as possible
GENERAL POSITION SUMMARY:
From April until October field staff will be responsible for visiting camps, responding to worker calls, recruiting new members, and investigating and resolving worker complaints. All staff work out of the Dudley office during the day six days per week, and coordinate camp visits 3-5 nights per week. Field staff must be prepared to work long and irregular hours including weekends and holidays as necessary.
From November to March, field staff will work on building community support for the Reynolds campaign, which includes coordinating supporter meetings and committees, giving presentations, and organizing campaign actions.
Field Staff responsibilities include:
Member Organizing
• Visiting labor camps and speaking with workers about the union, our contract, and the Reynolds Campaign
• Organizing regional worker meetings and coordinating drivers
• Investigating worker complaints and facilitating a solution
• Meeting with workers as they arrive for the growing season and as they leave for Mexico
Community organizing
• Organizing fundraising events
• Networking with allies
• Organizing community actions around the Reynolds Campaign
Office work
• Data entry
• maintaining accurate records of camp visits and locations and communication with members
• Maintaining records of community supporters
• providing limited direct services to local associate members
QUALIFICATIONS
• Flexible schedule, willing to travel and work evenings and weekends
• Able to travel for 1-2 week periods
• Fluent Spanish is required
• Demonstrated commitment to social justice/labor rights issues
• Basic computer and writing skills
• Must have valid driver's license and a car and be willing to drive for work
• Proficient administrative/computer skills
HOW TO APPLY
Please send a cover letter and resume to Briana Kemp at bkemp@floc.com. Please be sure to mention what date you are available to start.
Description: FLOC is a farm worker union that has been fighting for better working conditions for farm workers in Ohio and North Carolina since the mid 1960's. Union members live and work in North Carolina and we are looking for people interested in assisting in organizing farmworkers May-August 2013.
Fluency in Spanish and temporary relocation to Dudley, NC for the summer are requirements for this internship. This internship consists of becoming trained as a union field representative in North Carolina. This summer internship will consist of irregular working hours, frequent traveling within North Carolina and consistent interaction with farmworkers to help solve grievances, provide information on labor rights, and encourage union membership.
Responsibilities and Expectations:
Field Organizing
– Visiting labor camps and speaking with workers about the union, the union contract, and the Reynolds Campaign
– Organizing regional worker meetings and coordinating volunteer drivers to provide transportation for members in preparation for constitutional convention
– Investigating worker complaints and facilitating a solution
– Meeting with workers as they arrive for the growing season and as they leave for Mexico
– Updating data bases to report camp visits, problems and general worker information
– Answering calls and responding to inquiries from workers