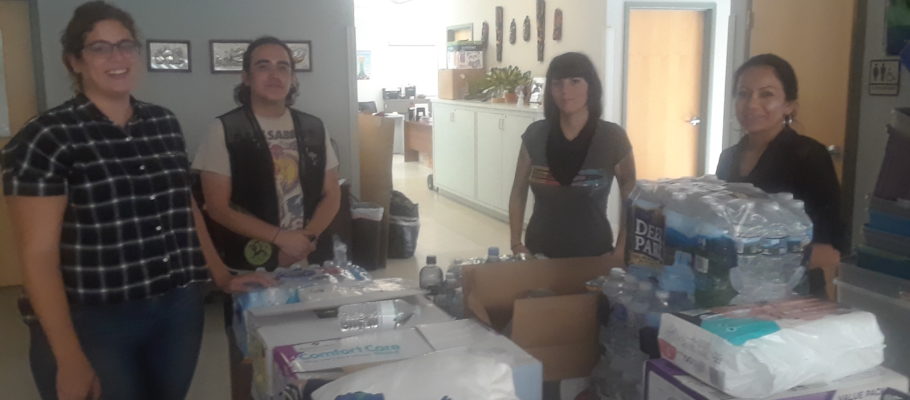 The past three weeks have brought a series of crises to farm workers and immigrant communities in Florida. This is a time for giving on all our parts. The immensity of need in multiple parts of the Americas right now is overwhelming, but please continue supporting by making an online donation and/or donating needed supplies to a local collection center. We are also looking for bilingual volunteers to assist with FEMA applications. See our separate post with information on donating to disaster relief for Puerto Rico.
In Florida, many farm workers lost their homes and most or all of their belongings in hurricane Irma. Many are still without power and without a place to live. Undocumented farm workers also have worries about submitting applications for federal disaster assistance, and information is hard to access, as it is only available online. With power and internet still down, the hurdles to apply for FEMA relief are significant. '
To make matters worse, the Florida Fruit and Vegetable Association estimates statewide that about 70% of the Florida orange crop was lost. This means that in addition to the expenditures of having to relocate to and replace belongings, farm workers have already lost wages to the storm and will continue to be impacted throughout the season. Immokalee is still functioning as a disaster relief zone and will be for some time. Fortunately, material supplies have poured into Immokalee, but other areas of the state have also been hard hit, and ongoing financial assistance is going to be needed to deal with the impact of the disaster.
To DONATE FUNDS to the Farmworker Association of Florida's hurricane relief fund, which is being used to help farm workers across the state who are impacted by the storm, click here and under "Write a note," enter "Hurricane relief."
To VOLUNTEER – If you are bilingual Spanish-English or Haitian Creole-English and you can volunteer in Florida helping farm workers fill out FEMA disaster assistance applications, please email Dominique at yaya@nfwm.org. (FWAF offices in Apopka, Pierson, Fellsmere, Immokalee and Homestead).
To DONATE SUPPLIES to farm workers, drop them off at any of the Farm Worker Association offices.
Please also see our other post about disaster relief to Puerto Rico and Mexico.