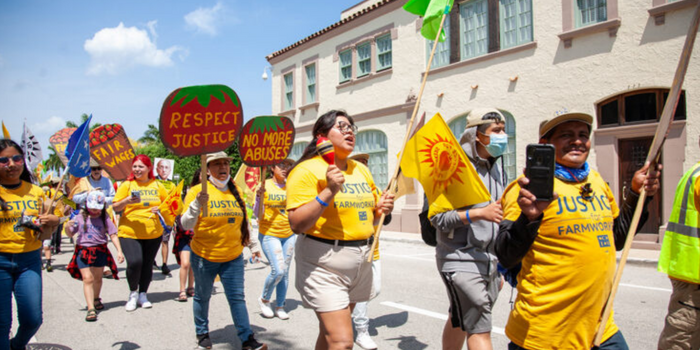 On March 14th, farm workers with the Coalition of Immokalee Workers and their allies will embark on a 5-day march from Pahokee, FL, to Palm Beach to celebrate more than ten years of success with the Fair Food Program (FFP). The "Build A New World" March will be calling on retail food giants Wendy's, Publix, and Kroger to join the Fair Food Program — a human rights initiative that many of their competitors joined over a decade ago — and do their part to help expand the FFP's gold standard protections to farm workers on their suppliers' farms.
Here's how you can show your solidarity with this action:
Join farm workers on the final day, March 18. There will be a rally at Lake Drive Park in Palm Beach beginning at 10:30 AM followed by a 2-mile march. Encourage your community also to participate. Register now to join in this monumental march to build a new world of freedom for all farm workers!
Show your love and support by writing letters and messages for farm workers and allies who are marching. Send letters to jtaylor@nfwm.org or post your messages on social media and tag us at @nfwministry.
Even if you have done this in the past, please deliver a letter to your local Wendy's manager. We want to reach as many locations around the country as we can as a demonstration that there is widespread national support for the Wendy's boycott. When you deliver the letter, please let us know by emailing us at jtaylor@nfwm.org, and be sure to give us the location of that Wendy's. Or you can take a photo or video of yourself at Wendy's and post it on your preferred social media platform — make sure to tag us in your post. Here's a message you can use: I'm joining @nfwministry in boycotting @Wendys until the final fast food holdout joins @FairFoodProgram! bit.ly/boycott-wendys #BoycottWendys"
Thank you for taking action alongside farm workers!