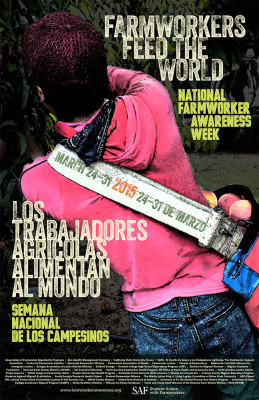 Once again, YAYA-NFWM will be taking part in National Farmworker Awareness Week to raise the general consciousness of farm worker issues happening in the U.S. During the week of March 24-31, hundreds of national partners will host events such as film screenings, panel discussions, long sleeve shirt drives, and actions to highlight the issues with farm labor in the U.S. Throughout the week, Orlando YAYA will be hosting 2 events that we hope to see you at! 🙂
On Thursday, March 26th, Orlando YAYA will be hosting a Scavenger Hunt at the University of Central Florida (HPA 1 Room 126) from 5-9PM. The scavenger hunt will take place across UCF campus and will revolve around the themes and issues related to farm workers. The scavenger hunt is meant to spark questions of "How does food arrive to me?"
The first 3 winners of the scavenger hunt will each receive a $50 gift card.
Coming soon: Facebook RSVP. If you have questions, contact us!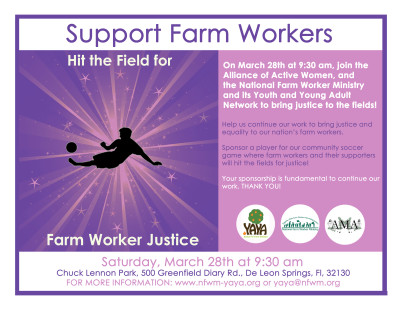 On Saturday, March 28th, the Hit the Fields for Farm Worker Justice IV soccer game will commence at 930AM at Chuck Lennon Park (5000 Greenfield Dairy Rd, De Leon Springs, FL 32130). This is our 4th fundraiser soccer game with the Alliance of Active Women (AMA)! The funds raised our split between AMA – who use the funds toward rent, utilities, internet, etc. to keep their running – and YAYA – which we use towards offsetting the cost of gas reimbursements, conferences, and immersion trips with farm worker communities. Come join us the day of the game!

Our fundraising goal is $4500! Help us make this year another success by contributing to farm worker justice!
There will be carpool provided from the Orlando area to the game! Contact us!
See you for National Farmworker Awareness week! And remember, "Did You Eat Today?"