Harvest of Justice is an opportunity to raise consciousness, commitment & contributions for farm workers!
The Harvest of Justice Season falls between Labor Day and World Food Day. Labor Day in America focuses on our country's labor movement and the many ways that US workers have given their toil to make our country prosper. Farm workers are among them. It is a fitting beginning to the Harvest of Justice season. And we end with World Food Day, an annual recognition of the Food and Agriculture Organization of the United Nations founding in 1945. Primarily observed by organizations concerned with food security, we recognize that many farm workers are themselves in need of food despite the fact that they pick fruits and vegetables for the rest of us.
The Harvest of Justice program is a way to educate your faith community, family, and peers about farm worker issues. You can take action by getting together with your community and raising awareness about farm workers.
The impacts of climate change are being felt all over the U.S. through higher temperatures, increase in wildfires, prolonged droughts, frequent flooding and more frequent and stronger hurricanes. Farm workers – men, women, children, documented, undocumented, migrant, resident – are on the front lines of the brunt of climate change. As climate change forces significant agricultural adaptations and farmers continue to feel pressure to make shortcuts concerning labor, farm workers will feel the first and most severe impacts on their working and living conditions.
We urge people of faith and conscience to hear the call and stand with farm workers to challenge oppressive systems in order to bring healing to individuals, communities, and the earth.
Farm Workers and the Environment (beginning August 31) is divided into 6 subtopics. Each contains videos, an information sheet, action ideas, and additional resources.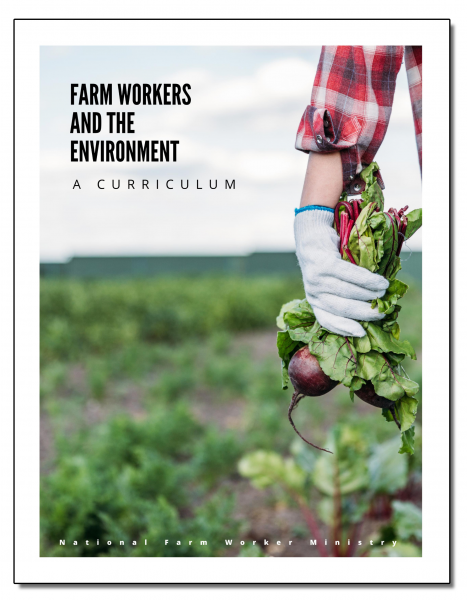 A full curriculum for use by youth groups, in schools, etc., is available:
Farm Workers and the Environment: A Curriculum (pdf)
The National Farm Worker Ministry's Harvest of Justice 2019 brings awareness to gender based violence farm worker women experience everyday. A disturbing 80% of farm worker women surveyed in the California Central Valley in 2010 reported that they had experienced sexual harassment at work. Sexual harassment and violence are experienced by both men and women in the fields, but women face this in disproportionately higher numbers. Because of this, our Harvest of Justice 2019 will address women primarily. We want to celebrate farm worker women and women's organizations that are fighting back. Women are affirming their rights, speaking out, working with allies to change laws, and using consumer actions to address corporate power that acts as a silent sanction to harassment.
Immigration: Harvest of Justice 2018
The National Farm Worker Ministry's Harvest of Justice 2018 focuses on some of the immigration issues specific to farm workers. Each downloadable file contains "Learn," "Reflect," and "Act."
Farm Workers: Harvest of Justice 2017
---
"Since the very first 'Harvest of Justice' soup and education program several years ago, the people of St. Pius V Catholic Church learned that calling for justice for farm workers is not a one time event. Understanding and responding to the need for safe working conditions and just wages for the men, women, and even children who labor in the fields has become an integral and ongoing feature of our community's life of faith that does justice. There are many immigrants and refugees in our parish community, and it is always inspiring to see their generous and caring responses to promote justice for farmworkers as they themselves have known difficulties of a similar nature. At the end of each 'Harvest Of Justice' event, I am aware that Life has a way of criss-crossing the ties that bind us together and helps us understand that in our perceived separateness, we are truly ONE."
-Sister Gen Cassani, School Sisters of Notre Dame