Familias Unidas por la Justicia  is an independent farm worker union of indigenous families located in Burlington, WA representing over 500 Triqui, Mixteco, and Spanish speaking workers at Sakuma Bros. Berry Farm. Familias Unidas formed in 2013 with the hopes of securing a better future for hand harvesters in the local berry fields of Whatcom and Skagit Counties in Washington State. Nearly four years later, on September 12, 2016, Familias Unidas won a historic secret ballot election ushering in a new era for farm worker justice in WA State. Familias Unidas is led by a leadership team, including Ramon Torres, President, and Felimon Pineda, VP.
The contract with Sakuma Bros. guarantees a $15 hourly wage, sets up a process to calculate a fair piece-rate wage for berry pickers, establishes a grievance process and protects against arbitrary termination, among other protections of basic worker rights. Ramon Torres has said, "The union helps workers understand their rights and empowers them to stand up for themselves. It is the goal of Familias Unidas that the workers manage the contract themselves."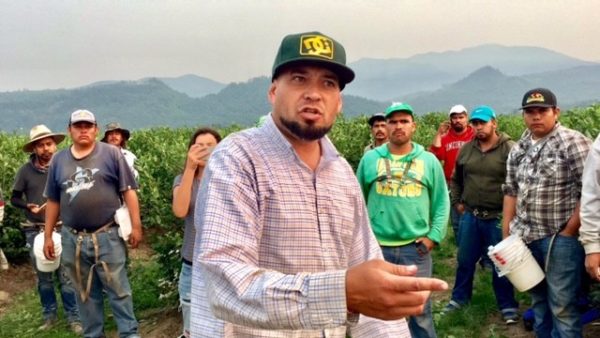 Familias Unidas continues to expand its organizing by linking the cause of migrant workers to other issues, including climate change, immigration reform and racial justice. Farm workers have also formed a worker cooperative farm, Cooperativa Tierra y Libertad.
Recently, Familias Unidas and its solidarity partner Community to Community (C2C) have begun focusing on the grave problems with the H2A guestworker program, which is growing quickly in Washington State, as it is nationally. Through public education and organizing workers, Familias Unidas and C2C are resisting the near-slavery conditions that often exist in the H2A program and are providing support to H2A workers in the state.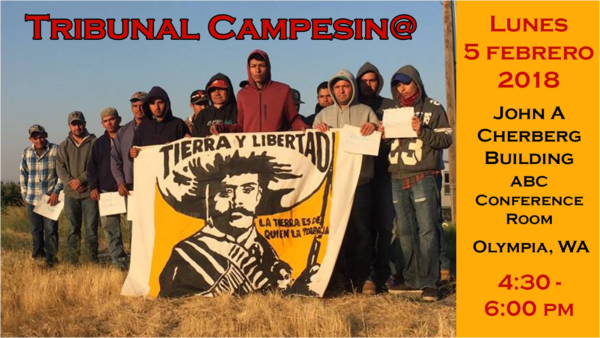 ---
History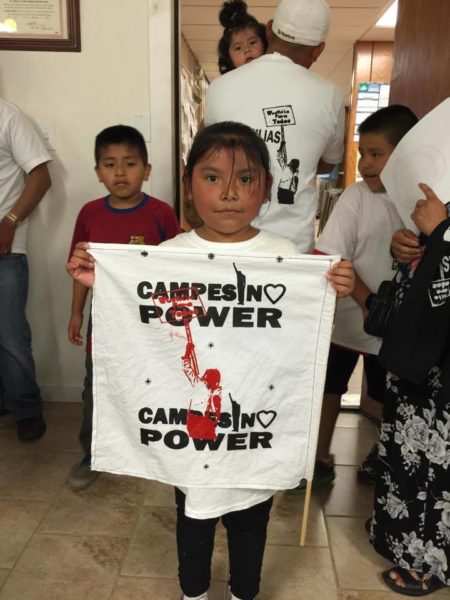 In July 11, 2013, 248 out of 278 farm workers at Sakuma Bros. Berry Farm went on strike after Federico Lopez, an employee at the time, was immediately fired upon asking his foreman for a raise. These workers confronted management with a written list of demands including better living accommodations, sick leave, a raise in the piece rate wage since some workers were not making even the minimum wage, and an end to disrespectful and racist derision by farm supervisors.
After an initial agreement was made that promised improvements, Sakuma Bros. reneged, firing all the workers associated with Familias Unidas, citing poor picking quality and inexcusable absences from the strikes. By the end of August 2013, the farm workers had formalized representation as Familias Unidas por la Justicia and 246 pickers voted to authorize a boycott of Sakuma berries. Community support grew, pickets at area markets were held and some retailers in the Northwest joined the boycott.
During the 2014 season, retaliation against the workers continued, and Sakuma Bros. went so far as to apply for H2A work visas for 438 workers, saying that the strikers weren't available to work because they had all been fired. In defense of their jobs, Familias Unidas submitted 300 letters of intent to work to Sakuma. Under worker and community pressure, the U.S. Department of Labor did not approve Sakuma's H2A application.
Throughout 2014 and 2015 the workers won a number of important legal battles, including the July 2015 Washington Supreme Court unanimous ruling that piece-rate farm workers must be paid separately for rest breaks. And community support, even national and international support, for the boycott of Sakuma berries, as well as Driscoll's and Häagen-Dazs strawberry ice cream, purchasers of the majority of Sakuma berries, grew. The WA State Labor Council AFL-CIO passed a resolution recognizing FUJ as a member union and endorsed support for the boycott.
Familias Unidas workers began the 2017 berry season at Sakuma Bros. with their first union contract.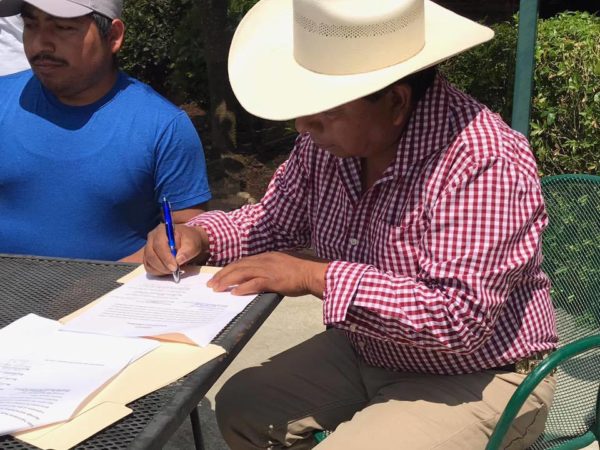 ---
NFWM and Familias Unidas
The NFWM Board of Directors held their bi-annual 2015 summer meeting in Bellingham, WA so that they could hear first hand from Familias Unidas members and learn more about the boycott and also to join in the July 11th march and demonstration on the second anniversary of the first strike at Sakuma Bros. On July 11, 2015, NFWM voted to endorse the Familias Unidas called boycott of Sakuma Bros. berries, Driscoll's berries and Häagen-Dazs strawberry ice cream. The NFWM Board will again be holding its bi-annual meeting in Bellingham, WA the summer of 2018.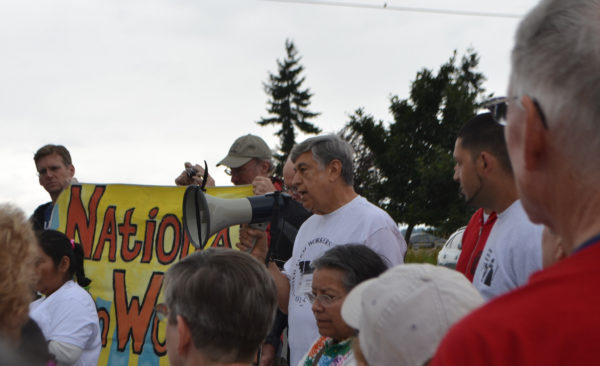 ---
Key NFWM Actions in Support of Familias Unidas
NFWM mobilized numerous letters to Sakuma's CEO from our faith-based organizational partners.
NFWM mobilized nearly 1000 people in 28 states to send boycott postcards; three of the postcards were directed at Sakuma, Driscoll's, and Häagen-Dazs – all targets of the boycott. The fourth postcard went to Familias Unidas to let the farm workers know they had supporters all over the country. This was important because, when the board met with Familias Unidas members, we were told of their discouragement that they received little faith-based support in the Skagit Valley.
NFWM organized delivery of 750 of the postcards to Sakuma CEO Danny Weeden on January 8th via a delegation from our member organization Farm Worker Ministry Northwest (FWM-NW). Mr. Weeden refused meeting with the delegation but agreed to meet with FWM-NW President and NFWM Board member Dr. Gabriela Rios. The meeting lasted more than hour and was cordial; although Mr. Weeden would not agree to our urging that he meet directly with the farm workers, Dr. Rios did emphatically make the point to him that faith-based support for Familias Unidas was going to continue until Sakuma negotiates with Familias Unidas. In the end, Mr. Weeden refused to accept the postcards.
NFWM communicated with Sakuma CEO Mr. Weeden numerous times, resulting in a meeting on February 12, 2016 between a delegation of NFWM Board members, NFWM staff, Mr. Weeden and John Erb, Vice President of Supply and Regional Operations at Driscoll's in Washington, D.C. This meeting did not result in a commitment from Weeden to recognize Familias Unidas as the representative of the farm workers working at Sakuma or agree to meet with Familias Unidas. The meeting was successful, however, in exchanging important information, in clarifying our differing positions and in impressing on Weeden and Erb the resolve of the NFWM to persevere with our farm worker partner Familias Unidas until justice is won.
"The National Farm Worker Ministry's presence at our anniversary march in 2015 was inspirational to the members at Sakuma Farms. Our relationship with the National Farm Worker Ministry has been critical in changing the direction for Sakuma Farms finally wanting to negotiate. We are forever grateful to the Ministry's commitment to farm worker justice and look forward to continued collaboration and long lasting allyship," Ramon Torres, President, Familias Unidas.
Learn how you can get involved!
Last updated 06/2018