FLOC Reynolds Tobacco Campaign

About FLOC:
The Farm Labor Organizing Committee (FLOC)is a farm worker union founded in the mid-1960s in Ohio by Baldemar Velasquez. It is vitally important to the farm worker movement for creating and popularizing the corporate campaign.
Historical Importance of FLOC:
Before FLOC, farm workers struggling for better working conditions targeted the growers directly above them. FLOC moved beyond this model, successfully mobilizing farm workers and the general public to put pressure on the powerful corporations that buy from the growers, instead of the less-powerful growers who source their products to corporations. Utilizing non-violent tactics like marches and public boycotts, FLOC was the first group to use a corporate campaign to win a seat for farm workers at the bargaining table along with growers and corporations. FLOC pioneered a historic three-way labor contract between farm workers, Campbell Soup, and tomato and cucumber growers in Ohio and Michigan. The contract was signed in 1986 after 2 years of talks and corporate campaigning. Thus, FLOC can be considered both a farm worker labor union and a social movement in its own right. It has two critical goals:
Change the structure of society to benefit farm workers. In particular, the labor union process places workers as equals at the bargaining table, and provides an effective structure for self-determination.
Build a strong popular base of supporters for justice. Corporations have tremendous economic and political power, but if consumers work together to hold these corporations accountable, they can collectively tip the balance of power to bring justice to farm workers. For example, millions of people boycotting certain products can tip the balance of power.
FLOC has continued to pursue these goals and win victories, including the winning of the Mt. Olive Pickle boycott in 2004 and the subsequent signing of a contract with the North Carolina Growers Association, covering thousands of farm workers in that state.  FLOC's most recent campaign targets the RJ Reynolds Tobacco Corporation on behalf of farm workers who work in tobacco fields.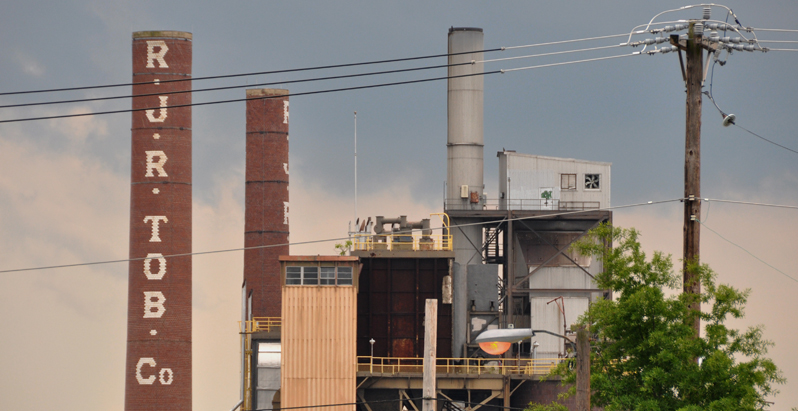 About the Reynolds Campaign
R.J. Reynolds Tobacco Company, based in North Carolina, is the second-largest tobacco company in the United States, manufacturing about one of every three cigarettes sold in the country. While big tobacco corporations make billions, tobacco farm workers live in poverty, face racism, harassment, nicotine poisoning, lethal pesticides, miserable housing in labor camps and denial of basic human rights and labor protections. For instance, due to lack of mandatory water breaks for farm workers and the fact that nicotine increases body temperature, tobacco farm workers are at great risk of heatstroke.  In the past decade, nine farm workers have died in North Carolina, many of heatstroke. The tragedies, which occur daily in the fields, are due to industry-wide problems that need to be addressed by those who have control over the tobacco market. RJ Reynolds is at the top of this list. FLOC has continuously called on RJ Reynolds to meet with representatives of the farm workers it relies on to make its products. Together with FLOC, RJ Reynolds can use its tremendous power to initiate changes that will improve the lives of growers and farm workers alike.
A Small Step Forward
After years of struggle by FLOC and allies – and Reynolds refusing to take action on abuse in the fields – the campaign took a small step forward in May 2011, when Reynolds, at its annual shareholder's meeting, pledged:
To use an independent third party to monitor working conditions in tobacco fields that supply to Reynolds.
To support a council of tobacco industry members, growers, farm workers and other stakeholders.
Because Reynolds previously outright denied exploitation in the fields, these pledges represent an important shift in the campaign. It is now more important than ever before to keep up the pressure to make sure Reynolds turns its words into action. FLOC continues to struggle for better conditions for farm workers in North Carolina's tobacco fields. ¡Hasta la Victoria (until victory is achieved)!
More Recent Progress
After years of advocacy by religious and student communities, labor and civil rights organizations, and concerned consumers, Reynolds management and FLOC began meeting directly in June of 2012. An abundance of support and encouragement for farm workers' voices resulted in the achievement of these meetings. Now the goal is to ensure that  lasting improvements in the fields and camps are achieved. Although Reynolds does not directly employ tobacco farm workers, by contracting with the tobacco growers it establishes standards which directly affect the living and working conditions of tobacco farm workers within its supply chain and beyond.
In September 2012, over 200 religious leaders signed a letter sent to Reynolds CEO and directors on behalf of tobacco farm workers. The letter calls on RAI to work with FLOC to develop a written agreement establishing a process guaranteeing freedom of association and collective bargaining for tobacco farm workers in the RAI supply chain. In this way, Reynolds American will affirm the authentic voices of the tobacco farm workers, address common concerns, identify and work toward eliminating abuses in the supply chain, and ultimately improve the living and working conditions of tobacco farm workers. Letter to Reynolds CEO & Directors  In 2014, almost 500 religious leaders signed another letter sent to Reynolds CEO and directors on behalf of tobacco farm workers. This particular letter calls on RAI to work with FLOC to develop a written agreement establishing a process guaranteeing freedom of association and to guarantee no retaliation against workers for signing union cards during FLOC's summer sign-up campaign.  2014 Letter to RAI Directors
What We Are Doing to Support FLOC:
Raising awareness about issues faced by tobacco farm workers
Organizing actions and events in communities around the country
Holding boards of directors accountable
Supporting  FLOC at the Reynolds American Tobacco shareholders' meeting each year.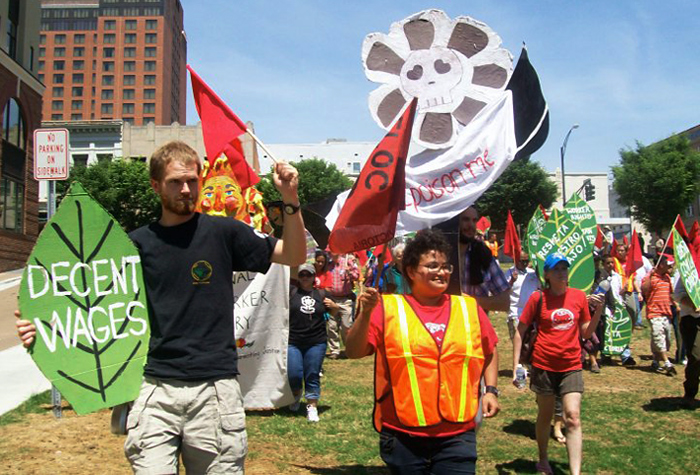 You can:
---
Content provided by NFWM-YAYA Staff.