CIW Campaign for Fair Food

About the CIW:
The Coalition of Immokalee Workers (CIW) is a grassroots organization based in Immokalee, Florida that works on improving the wages and labor conditions of its members, who are primarily tomato pickers, as well as bringing attention to cases of modern-day slavery.
About the CIW's Campaign for Fair Food:
The Coalition of Immokalee Workers (CIW)'s campaign focuses on bringing giant fast food corporations, supermarkets, food providers and the tomato industry to act as responsible corporations throughout their supply chains, and on fighting against modern day slavery in the fields of Florida.
The campaign has three major demands that seek to improve the lives and working conditions of tomato pickers in Immokalee, Florida:
An immediate increase in farm worker wages (they advocate for an increase of at least a penny more per pound of tomatoes)
Developing an industry-wide Code of Conduct with the full participation of farm workers (to prevent abuses at the workplace, including modern day slavery).
A seat at the table for farm workers alongside growers and corporations who are making decisions that affect the tomato industry.
The CIW has reached agreements with Taco Bell (YUM Brands), McDonald's, Burger King, Subway, Whole Foods, Bon Appétit Co., Aramark, Sodexo, Compass Group, Trader Joe's, Chipotle, Fresh Market, Ahold and Walmart.
They are currently focusing on Publix and Kroger in the supermarket industry, and on Wendy's in the fast food industry.
What We Are Doing to Support CIW:
NFWM endorsed the boycott of Wendy's and is urging our constituents to publicize and support the boycott.
the Organizing speaking events with members of the Coalition of Immokalee Workers
Educating communities about the CIW and the issues faced by tomato pickers
Mobilizing members and allies to participate in marches and demonstrations
Delivering and collecting letters, and more
NFWM's YAYA members in Florida are especially active on CIW campaigns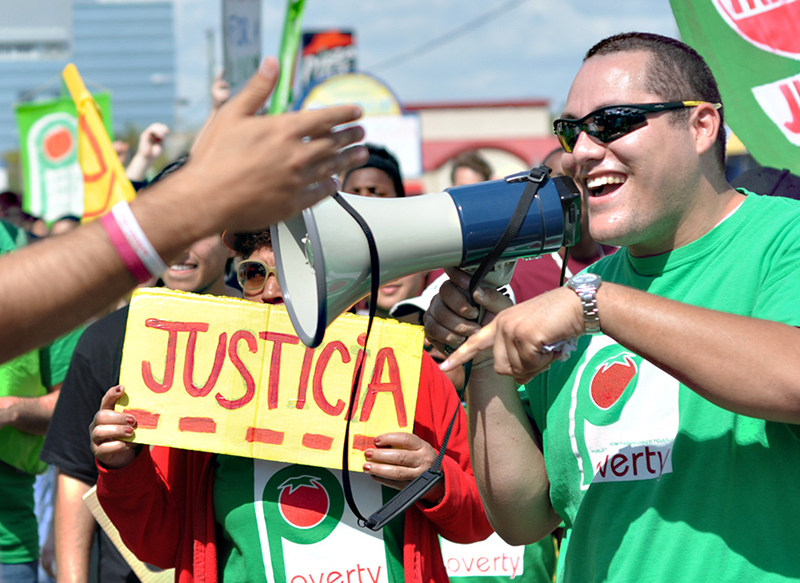 You can:
---
Content provided by NFWM-YAYA Staff.