Development Manager
ajonas@nfwm.org
---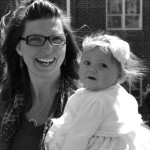 Coming from a rural farming town in Southern Illinois, Alex thought she understood agriculture. But it wasn't until doing social justice work through a Young Adult Mission Program of the United Methodist Church and living (quite literally) on the other side of the planet that she learned about how and by whom most of the world's food gets harvested.
After working in the Philippines with farm workers and indigenous communities, Alex returned to the US to continue her service as the NC state organizer of NFWM from 2007 through 2011. "The challenges farm workers face and, most importantly, their struggle for self determination is similar all over the world. I am so humbled to be able to work in solidarity with them." Alex is happy to be back at NFWM as Development Manager.
Alex says, like many who are connected to NFWM, this movement caught hold of her and it will always be an important part of her life. She believes NFWM is a one of-a-kind organization that truly lives out its firm belief in taking its direction from those who are impacted most. "I continue to be amazed by the farm workers and their supporters who are among some of the most inspiring justice seekers I've ever known.