The Equitable Food Initiative (EFI) is a nonprofit certification and worker training program for fresh produce that brings together growers, farm workers, retailers and consumers to transform agriculture and improve the lives of farmworkers. EFI partners with growers of fresh fruits and vegetables who want to improve communication and create collaborative work environments that recognize the value of all staff. These progressive farming environments focus on creating a culture of continuous improvement that lead to a safer food supply chain, better work places and the ability to meet evolving business needs.
EFI is more than a certification. It is a new approach to doing business that engages everyone in the supply chain to raise the standards for food safety and production. EFI's unique approach includes the creation, training and support of an inclusive Leadership Team on each EFI certified farm. Farmworkers are engaged to identify problems and create solutions.
EFI's reach:
48 certified locations
60,000 farmworkers working on farms with EFI-trained leadership teams
$12.5 million generated in worker bonuses
---
The EFI label – Responsibly Grown, Farmworker Assured™
When you see the EFI label on fruits and vegetables, it means the grower is providing a new level of transparency that comes from having met all of the EFI's rigorous standards for labor practices, food safety and pest management.
The EFI label signifies that the workers harvesting your fresh produce are not only treated well and compensated fairly, but they are engaged to identify problems and solutions that impact the safety of your food while helping to transform the agricultural supply chain.
The EFI Standards are some of the most rigorous in the industry and the only ones that include labor practices, food safety and pest management under a single certification label.
---
History of EFI
Spearheaded by Oxfam America, a group of farm worker movement leaders and NGOs began meeting in the late 2000s to develop an agricultural multi-stakeholder initiative as a new approach to changing the agricultural system. NFWM's Executive Director Virginia Nesmith was one of the members of that first steering committee. Their ambitious approach was joined by growers and retailers and underwent rigorous development and growth. In 2015, the Equitable Food Initiative was spun off from Oxfam America as an independent non-profit.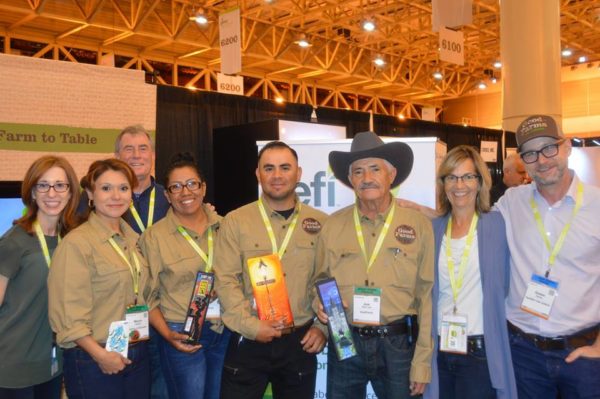 In 2012, the NFWM Board visited an Andrew and Williamson farm near Salinas, CA which was one of the earliest farms to start the EFI certification process. The board got the opportunity to talk with workers and management and we came away very impressed by the model they were developing.
---
Learn More
Last updated 02/2022