Immigration Reform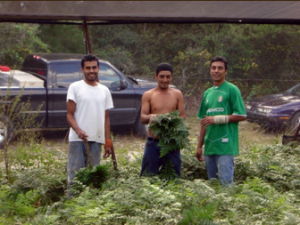 NFWM applauds President Obama's commitment towards actualizing Comprehensive Immigration Reform (CIR) and the bi-partisan efforts within the Senate towards the creation of a bill that includes a path to citizenship for undocumented immigrants living in the United States.
The great majority of farm workers, the people who labor every day to harvest our food, are undocumented. Many farm workers suffer ongoing abuse in the fields because they are threatened with firing or deportation if they complain. Many haven't been able to cross the border to their countries of origin to see their own families for years. CIR would make it possible for farm workers to reunite with their families;  to work, live and to participate in their communities without fear.
We believe that any such bill should also include strong protections for farm workers who enter the country as guest workers (with an H2A Visa) and that these workers should have the option of becoming permanent residents.
Please explore the menu on the right to learn more about immigration and farm workers: