Honor the Boycott of REYNOLDS AMERICAN VUSE E-CIGARETTE until Reynolds signs an agreement with FLOC guaranteeing farm workers in their supply chain freedom of association and protections for collective bargaining.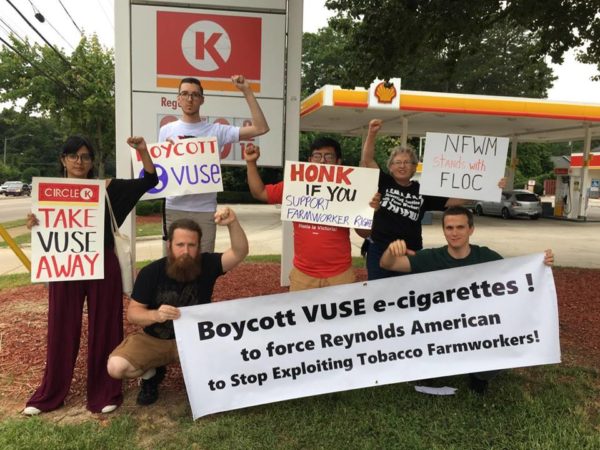 Take action!
Learn about our letter from religious leaders to BAT, and read about religious leaders meeting with Reynolds.

Sign FLOC'S National Petition to the corporate officers of 7-Eleven, Couche Tard (Circle K) and WAWA convenience store chains urging them to remove Reynolds American VUSE e-cigarette boycott from their shelves.
Send a letter to Reynolds and mail to: Guy Meldrum, CEO, Reynolds American, 401 N. Main St., Winston-Salem, NC 27101-2990.
In your networks, seek organizational and congregational endorsements of the VUSE boycott. Contact NFWM or FLOC for assistance.
Promote the boycott on social media using the hashtag #boycottvuse
Take a convenience store manager letter to a 7-Eleven, Circle K and WAWA near you & ask them to communicate with the corporate office your call to take VUSE off their shelves.
Participate in an action at a WAWA, Circle K (Kangaroo) or 7-Eleven convenience store. To locate an action near you or for assistance in organizing your own action, contact NFWM at 919-302-9581 or nfwm@nfwm.org.
Download NFWM's shopping guide and purchase items produced under a farm worker certification program.
---
Why boycott VUSE?
Since 2007, farm workers and their allies, including NFWM, have asked Reynolds American Inc. to work with the Farm Labor Organizing Committee (FLOC) to end abuses and human rights violations in their supply chain. For five years, we heard "any problems are not our responsibility." Since the 2012 announcement that Reynolds would engage in multi-stakeholder talks, all FLOC has gotten from the talks is dead-end discussions and suggestions for band-aid solutions. So in September 2017, the members of FLOC voted to call the boycott.
Because farm workers are excluded from many federal labor laws, farm workers are not guaranteed the protections other US workers are for freedom of association or the right to collectively bargain. Fear of retaliation and blacklisting leaves farm workers in a vulnerable situation that discourages them from speaking out against abuse and exploitation. Until workers have a voice in their workplace, these abuses will continue.
VUSE e-cigarette is Reynolds' hallmark product and is sold at many convenience stores. Thirty-six percent of tobacco sales come from convenience stores. FLOC and its allies have made significant efforts to communicate with the corporate officers of 7-Eleven, Couche-Tard (Circle K) and WAWA convenience store chains, but the chains have not responded.

---
NFWM Endorses the Boycott of Reynolds American VUSE E-cigarette
On January 27, 2018, the NFWM Board of Directors voted to endorse the boycott stating that, "Now is the time for Reynolds American to sign a negotiated agreement with FLOC that will guarantee freedom of association and provide a practical mechanism for addressing worker grievances. This is the best way for British American Tobacco * and Reynolds American, its subsidiary, to comply with your stated Principles of Good Corporate Conduct. It is also the best way to improve the living and working conditions of tobacco farm workers in your supply chain." The board committed the resources of NFWM to supporting FLOC until farm workers in the tobacco supply chain have a voice in the work place without fear of retaliation.
Learn more about our support of the boycott:
* In 2016, British American Tobacco purchased Reynolds American for $54.5 billion.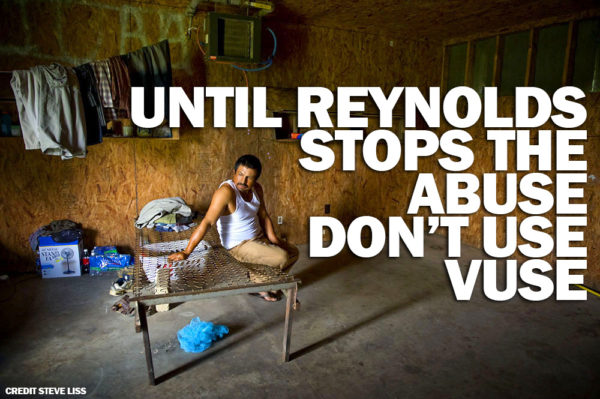 ---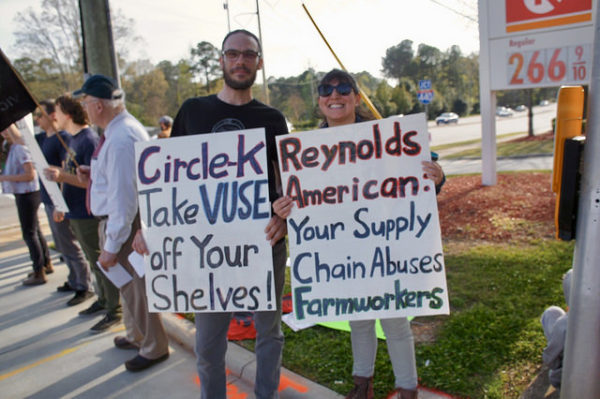 Learn more!