The Youth and Young Adult Network of the National Farm Worker Ministry (YAYA) is a national network of young people actively working to change the oppressive social, political and economic conditions faced by farm workers in the United States.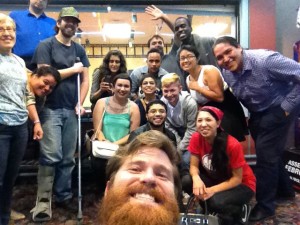 YAYA members support farm worker campaigns for justice and work directly with farm workers in the community.  On the YAYA website you can learn about campaigns for justice, area actions and upcoming training sessions.
Inspired by the non-violent principles of the farm worker movement, YAYAs support a variety of national and local campaigns, led by farm workers.  These campaigns seek to improve the oppressive conditions that farm workers live and work under.
YAYAs educate people and institutions about the conditions facing farm workers in the U.S. and activate them to support their campaigns.  YAYA members work with farm workers through a diverse array of activities, such as letter writing campaigns, peaceful marches, awareness events, research projects, immersion trips and more.  Through their work, YAYAs build relationships with farm worker groups as well as leadership within our own organization.
For more information, please visit:
Website:  www.nfwm-yaya.org 
Facebook: /yaya.nfwm
Twitter: @YAYAfarmworkers
Email: yaya@nfwm.org