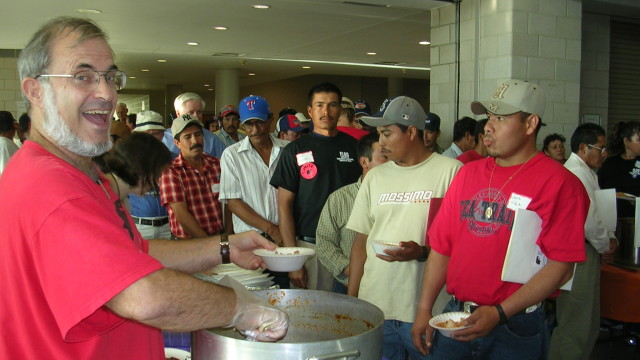 Some history behind the upcoming RJ Reynolds shareholders meeting, and why you're needed! By Dave Austin I've recently watched documentaries on the 60s and 70s history of the civil rights movement, like the Freedom Riders campaign… in awe of the courageous organizers, leaders and everyday resisters. But I also felt a sort of […]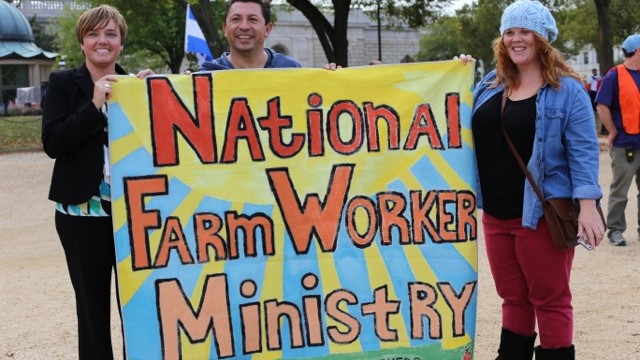 National Farm Worker Ministry (NFWM) seeks a creative, innovative professional with a proven track record in nonprofit fundraising and strategic communications. Organizational Overview NFWM is a progressive faith-based organization committed to justice for and empowerment of farm workers.  Since its organization in 1971, the ministry has worked with farm workers in their struggle for justice […]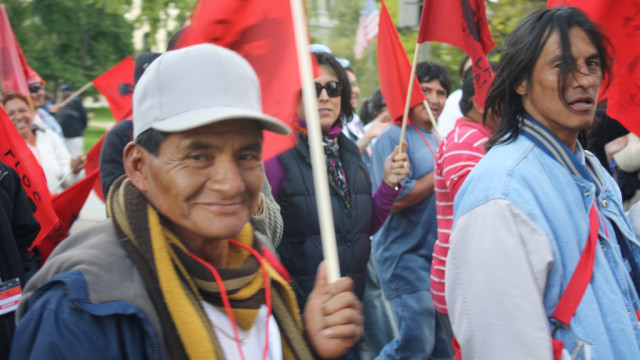 Join the Farm Labor Organizing Committee (FLOC) and the National Farm Worker Ministry for an action in Downtown Durham to call for humane working and living conditions for all farm workers. What: Demand justice for farm workers! When: October 12th at 5 pm. Where: TBA For more information contact FLOC by email or […]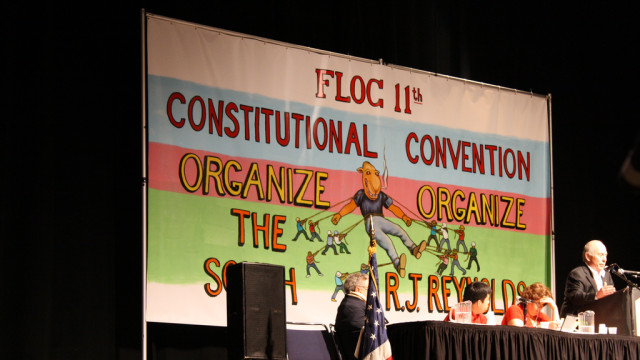 Join the Farm Labor Organizing Committee (FLOC) and the National Farm Worker Ministry for FLOC's 12th Quadrennial Constitutional Convention in North Carolina. The convention will focus on democratically making strategic decisions about how to challenge RJ Reynolds to change the exploitative agricultural labor supply system in North Carolina. FLOC urgently needs volunteers to help with […]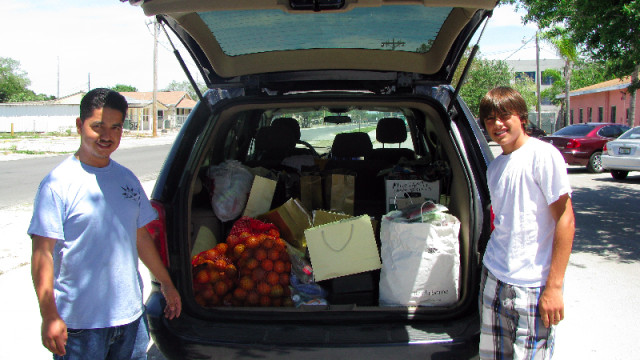 Farm workers need your help. Volunteer to drive Farm Labor Organizing Committee members to their next regional meeting on Sunday September 22nd. What: Volunteer to drive FLOC members to FLOC's Triad Regional Meeting. When: Sunday, September 22nd from 12:00pm – 6:00 pm Where: The Beloved Community Center located at 417 Arlington Street, Greensboro, NC, […]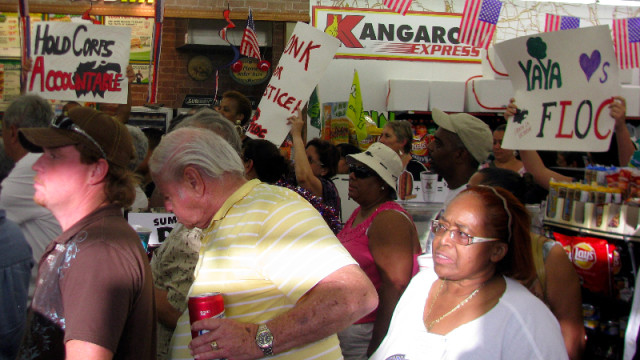 Join the Farm Labor Organizing Committee (FLOC) and the National Farm Worker Ministry for a 30-minute rally at the RJR tobacco-purchaser Kangaroo/Pantry Retail store this WEDNESDAY, September 18th. Demand that farm workers who pick tobacco in North Carolina get the justice they deserve! What: Rally in support of tobacco workers and FLOC. When: THIS WEDNESDAY, […]


The Farmworker Advocacy Network invites you to a Thanksgiving gathering…
The Harvest of Dignity Campaign Kick-Off!


Who: Farm workers and allies, people of faith, local media, local chefs, and you!
What: The Harvest of Dignity Campaign Kick Off
Luncheon and media event
When: Thurs., Nov. 18th, 12noon-2pm
Where: Pullen Memorial Baptist Church, Raleigh, NC
Why: To get the word out about the Harvest of Dignity Campaign – a new campaign that demands safe living conditions & working conditions for farm workers, and enforcement of current laws that protect these workers. This is our opportunity to share stories with the press & to share a Thanksgiving meal with farm workers, farm worker-allies and local media!
RSVP by Nov. 11th: We need your support and presence at this event!
Email: krausserin@gmail.com, or call: (828) 273-0927. Leave your name, organization/community affiliation, language preference (Eng./Spn.) and any food restrictions you may have.
Get involved!
NC Farmworkers need your strong support over the coming months to make much critical policy changes for safe workplaces, safe places to live and stronger enforcement of existing laws.
Endorse the campaign
Have you and/or your organization endorsed the campaign? Now, you can endorse Harvest of Dignity on the FAN website! It's easy and takes 30 seconds… Go to: http://www.ncfan.org/organization/
Host a House Party
Contact your local NFWM staff to get you started. We've got party-planning guides, recipes, materials on the campaign and more! Email: nc@nfwm.org or call: 919-597-1080
Please consider joining NFWM-NC at one of these great films!
In Durham
Harvest of Shame and Harvest of Dignity at the NC Latin American Film Festival
Tuesday Nov. 16 | 7-9 pm | UNC Global Education Center




In Greensboro
Join NFWM NC along with the NC Council of Churches and local filmmaker Charles Thompson for an extraordinary evening in Greensboro as we premiere the new film Brother Towns / Pueblos Hermanos. Afterwards, Dr. Thompson will answer questions about the film.
Tuesday Nov. 16 | 7-9 pm | Stallings Ballroom – B, Memorial Student Union NC A&T University
By Blake Daniel, Duke Divinity Intern
Yesterday I traveled to a remote farm in north-central North Carolina as part of the National Farm Worker Ministry's farmworker outreach project. My fellow NFWM workers and I traveled with some ten members of the Eno River Unitarian Universalist Fellowship to pay a visit to a group of migrant Latino men who have been working in the tobacco fields all summer. Our goal in visiting was one of solidarity. Most of us from NFWM and ERUUF have spent time learning about the lives and hardships of migrant workers in the U.S. and, as such, we were eager to dialogue with and befriend members of this group that so often goes unnoticed.
We spent the better part of the afternoon in fellowship at the workers' house, which was an aged trailer sitting in solitude amongst acres of tobacco crops. My fellow intern Lauren led us all in introductions and ice-breakers. Members of ERUUF provided a lunch replete with ham, macaroni salad, fresh fruit, and ice-cold Pepsi.
By Blake Daniel, Duke Divinity Intern
I'm always struck by the drive out of Durham and into farm country.
Lauren and I meet up with Rebecca from the Southern Coalition for Social Justice, and the three of us make the trek to visit farmworker labor camps in rural North Carolina. We leave behind the gothic architecture of Duke University and the exposed brick of downtown Durham to, abruptly, find ourselves immersed in agriculture. As my fellow intern Lauren drives, I look out the window to see classic signs of Americana: red barns with Coke logos painted on the side, American flags flying in front of quaint farmhouses, "Jesus Saves" scrawled on makeshift marquees, and rusted-out Chevys, amongst other detritus, littering the shoulder, all of which seem to reach back into a bygone era. I take in the landscape glowing amber in the setting sun as we suddenly pull off the road and into a gravel parking area. A stray dog ambles by, a rooster crows, and I look up to see a single-wide trailer at the end of the driveway. We've reached the farmworker labor camp.