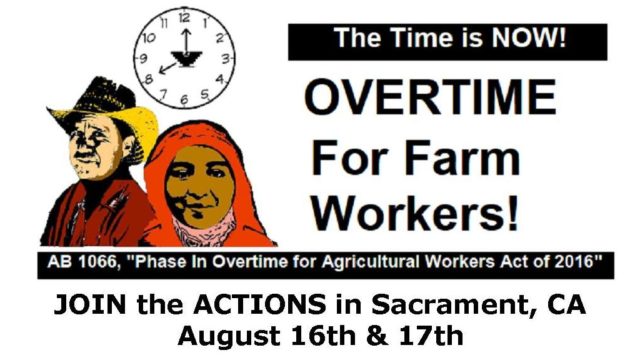 The National Farm Worker Ministry URGES our supporters in California, especially central and northern California, to join with people of faith, key legislators and the UFW to help pass the Overtime for Agricultural Workers bill! Come to Sacramento to join the fast on Tuesday, August 16, 2016 AND do Capitol visits in support of overtime […]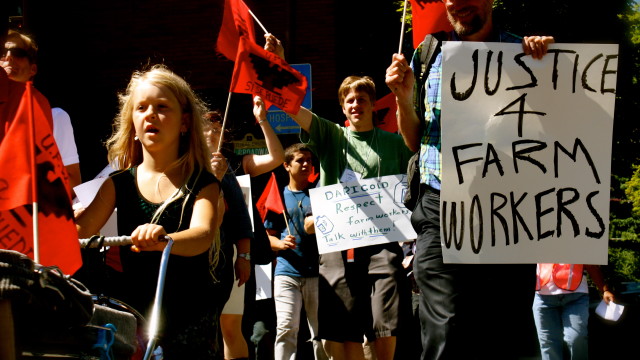 You can provide vital help to the farm workers at Gerawan Farming in California who are fighting for their rights.  Please SAVE THE DATES to attend one of the events (see below) in LONG BEACH, CA on March 24th,or SAN FRANCISCO, CA on March 31st or WASHINGTON, DC on April 7th. Just as importantly, please SPREAD THIS […]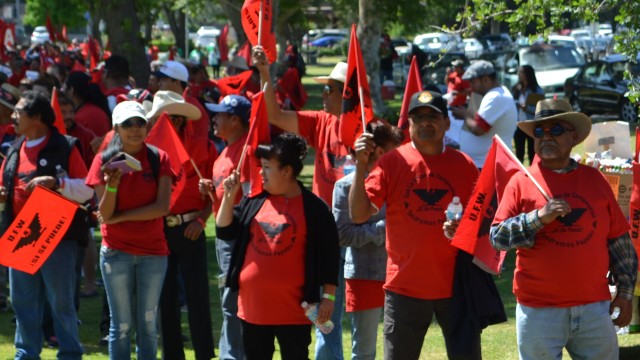 In late January at its biannual meeting, the National Farm Worker Ministry Board of Directors met at La Paz with Gerawan Farming Inc. workers who gave first-hand accounts that mirrored California state officials' accusations of gross law breaking by the giant grower with its Prima label. Especially distressing was hearing the Gerawan workers describe how […]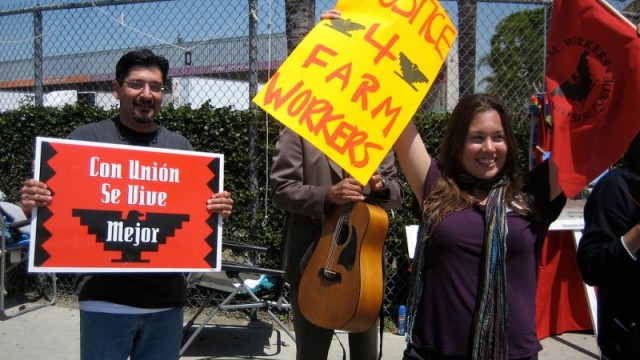 On April 24th, 2014 thousands of people from across the country and hundreds of farm workers coming from all over California are standing side-by-side and insisting that Majority Whip Kevin McCarthy come out of hiding and face the nation on immigration reform.  In conjunction with the United Farm Workers, NFWM mobilized faith leaders from across the […]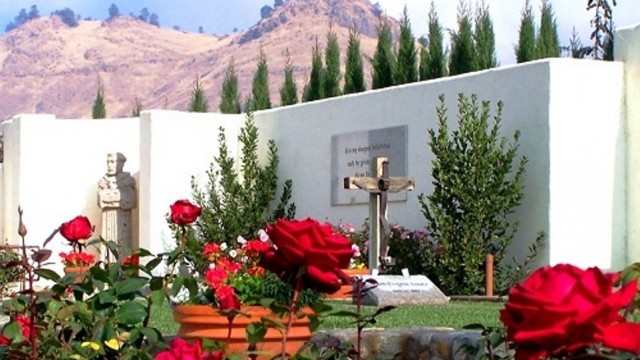 National Farm Worker Ministry Executive Director Virginia Nesmith, NFWM California Organizer Lucy Boutte, and founding NFWM Director Rev. Chris Hartmire and his wife Jane along with several other past and present board members of NFWM will be attending the establishment of the César E. Chávez  National Monument on Monday, October 8 in Keene, CA. President Barack Obama will […]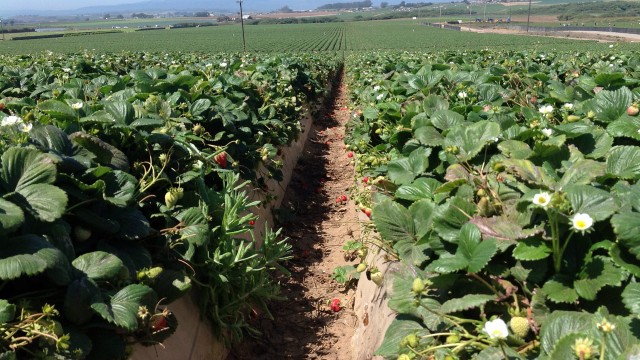 The Orange County Interfaith Committee (OCIC) will hold its 47th annual fundraising event for National Farm Worker Ministry on Sunday, September 30 2012 at Church of the Foothills in Santa Ana, CA. For those of you lucky enough to be close by to attend, this enjoyable evening will begin at 5:00 pm with a social […]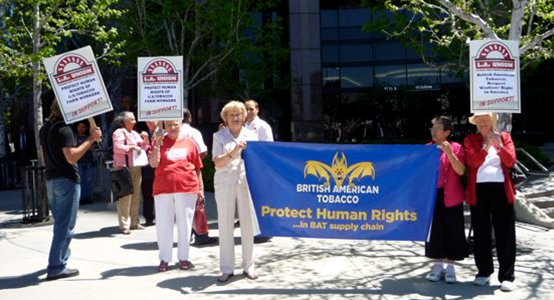 The Orange County Interfaith Committee to Aid Farm Workers (OCIC) will hold its 47th annual fundraising event for NFWM this coming Sunday, September 18th at St. Mark Presbyterian Church in Newport Beach, CA. The keynote speaker will be Dr. Michael Conroy, author of Branded! How the Certification Revolution is Transforming Global Corporations. The event begins […]
By Virginia Nesmith, June 29, 2011 National Farm Worker Ministry staff member Lucy Boutte was present with the United Farm Workers for the last 12 days in Sacramento, helping to organize prayer vigils, marches and fasts in hopes of persuading California Governor Jerry Brown to sign SB 104, the Fair Treatment for Farm Workers Act. […]
On October 15th and 16th over 20 Evergreen YAYAs, students, and community members attended a ten hour volunteer training to learn how to tutor adult immigrant learners in English. Friday night was spent learning about the work of Mason County Literacy, a non-profit, largely volunteer run organization that has been in operation for nearly 20 years. MCL and Thurston County Bookends utilize about 150 volunteers to provide free instruction to adults wishing to earn a GED, learn English as a second language, or improve their math and literacy skills. Participants read oral histories prepared by ESL students and talked about the different challenges and strengths that can shape the immigrant experience. We also discussed the different reasons that people emigrate from their home countries and the unique place that many immigrants find themselves in when they come to the United States seeking refuge from persecution and can never return home. A shared experience we found in the oral histories was the sense of loneliness and isolation; finding ordinary acts such as a trip to the grocery store completely intimidating because you cannot communicate with others.
The board & staff of NFWM met in Los Angeles the weekend of July 30 & 31, 2010. On the 30th, we traveled north to the area around Arvin and met with farm workers and UFW co-founder Dolores Huerta.


We then went to the edge of a grape vineyard and held a prayer vigil honoring those workers who have died working in the heat of California fields in recent years.

From there we went to Bakersfield, where NFWM President Felix Garza was featured speaker at an Immigration rally on the day that Arizona's anti-immigrant bill was to go into effect. Before leaving Bakersfield, we had dinner at Believers in Jesus church and heard from several Giumarra workers.


We then traveled back to our conference site, Mt. St, Mary's College. We were delighted to be joined throughout the weekend by co-founder of the Orange County Interfaith Committee to Aid Farmworkers and former NFWM board member, Jeanne Giordano and her husband Roy.
For more photos of the weekend, click HERE.