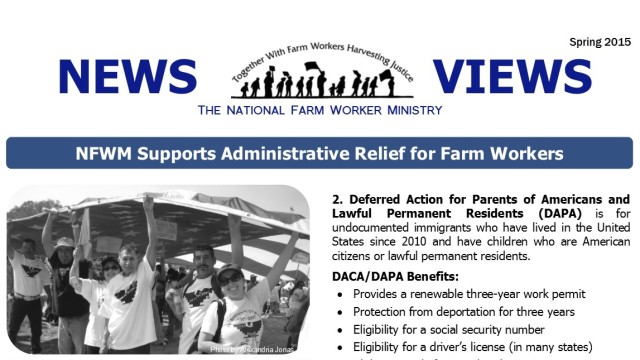 We just mailed out our Spring newsletter that includes recent goings on with NFWM and the farm worker movement. Maybe you're not on the mailing list yet or maybe you'd like some more copies to share with your friends and neighbors; Either way, it's online and can be downloaded for free here!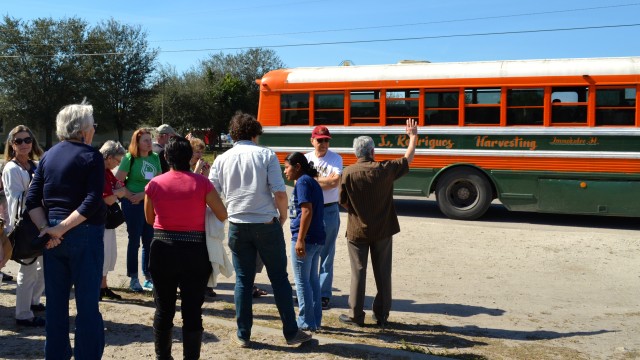 NFWM Staff Nico Gumbs and Board Member Carolyn Jaramillo of the Sisters of Loretto supporting farm worker justice with a smile! The National Farm Worker Ministry board held its winter meeting on January 30 & 31 in Immokalee, Florida. At the meeting, NFWM's board elected a new executive committee including a new board chair, Sylvia […]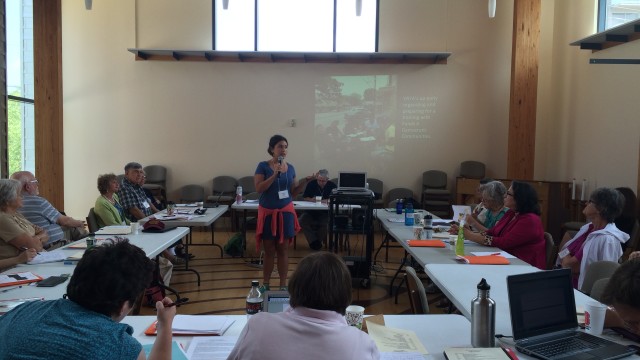 The weekend of August 15-16, 2014, National Farm Worker Ministry staff, board members and guests gathered at Pullen Memorial Baptist Church in Raleigh, North Carolina for the 2014 Summer Board Meeting. On Friday morning, board members held a short service of blessing for the new national office now located at 112 Cox Avenue in Raleigh.  Following the […]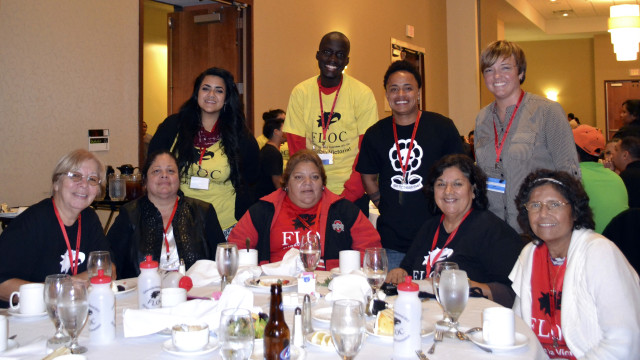 In recent years, the leadership of National Farm Worker Ministry (NFWM) saw fit to respond to the need of many 40+ year old nonprofit ministries in the U.S. and begin thinking about the future of the movement.  How would we transmit our rich history to the next generation?  Valuable time and energy was soon put into […]
As a huge snowstorm moved across the east coast, National Farm Worker Ministry staff and board members gathered in Washington DC. For three days at the end of January we reflected on the history of the farmworker movement and NFWM, set out a vision for the coming year, and visited the hall's of our nation's capital to push lawmakers on farmworker rights.
On Friday we met with a variety of leaders from both the NGO-world and the Obama Administration at the United Methodist Building on Capitol Hill. After walking through the cold and snowy (but beautiful) downtown Washington DC we were excited to see the sign in front of the UMB reading "Have you eaten today? Thank a farmworker!" Later on in the day Congressional staffers mentioned to a board member that the sign received a good deal of attention.
On January 30th and 31st, the NFWM Board and Staff held it's winter meeting at the United Methodist Church Life Enrichment Center near Leesburg, Fl. One of the highlights of the weekend was to have thirteen YAYAs (NFWM's Youth & Young Adult Network) join us on Saturday.
On Friday August 7th, the Board and Staff of the National Farm Worker Ministry were joined by NFWM supporters and clergy from North Carolina for a day of activities in support of farm workers who toil in tobacco fields, inclulding a moving service held at a tobacco field honoring the sacrifices of farm workers.