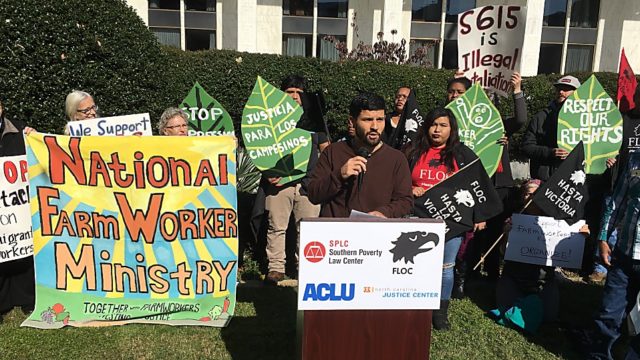 As we reported to you earlier, in July the North Carolina Legislature passed and Gov. Roy Cooper signed S615, the Farm Act. S615 includes two terrible amendments, added at the last minute, which can only be seen as an assault on FLOC, the Farm Labor Organizing Committee, and the gains the union has made organizing […]
On Tuesday, July 28th, about 200 farm worker supporters, including members of clergy from Catholic, Protestant, Jewish, and Muslim faith traditions gathered at the Los Angeles Wholesale Produce Market to raise awareness about the 15 heat-related deaths in the fields of California since 2004. The vigil was held on the 5-year anniversary of the death of Asuncion Valdivia, the first of the fifteen to pass away who died while he was picking grapes for Guimarra Vineyards. Virginia Nesmith, NFWM director, welcomed the crowd to the vigil, sponsored by NFWM and the UFW. Arturo Rodriguez, UFW spoke as well as farm workers, clergy and several politicians.
Two days later, the ACLU (American Civil Liberties Union) affiliates of Southern California and San Diego and Imperial Counties, and the law firm of Munger, Tolles & Olson LLP, filed a landmark lawsuit against the state and its Occupational Safety and Health Standards Board (Cal/OSHA) for failing to live up to their constitutional and statutory duties to protect the safety of farm workers. Click here for more information.