In 1920, the Migrant Ministry (which would eventually become the National Farm Worker Ministry) formed in response to a survey that revealed the extreme poverty and needs of migrant farm workers in the southeastern United States. The Migrant Ministry offered direct aid to migrant workers in a variety of forms including food, clothing, day-care for children, health literacy education, sports activities, and acting as a liaison between schools and parents or advocates for acquiring water access for farm worker housing. By 1939, the organization had established workers' rights and worker support programs in 15 states with a significant diversity of specific missions oriented toward local needs.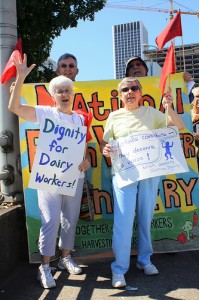 When farm workers began organizing themselves and striking in California in the 1960s, the California Migrant Ministry and other branches of the Migrant Ministry across the country became major allies and support networks for the workers. Leaders of the Migrant Ministry in various states decided to form one national ministry that could better mobilize support from faith communities for campaigns such as the UFWA grape boycott which required support on a national scale. In 1971, the Migrant Ministry became the National Farm Worker Ministry and redefined its mission as supporting farm workers as they organize themselves for equality, freedom, and justice. The National Farm Worker Ministry continues to work throughout the United States to support farm workers' organizing efforts.
Click here to download a copy of NFWM's 75th Anniversary Booklet.
Sections
Farm Workers in the United States » History of the National Farm Worker Ministry » Farm Worker Organizing Today » What You Can Do