New NFWM "Thank a Farm Worker" Re-useable Shopping Bag ($15)
This natural cotton, reusable bag is strong and roomy. It measures 14"w x 15"h, x 6.5″d and is made in the USA. For those who have NFWM's original bag, this one is slightly taller and holds more.
Donate $15 or more to show your support for the farm workers who labor to feed this nation AND remind other shoppers – "If you Ate Today – Thank a Farm Worker!" (Payment information below.)
---
NFWM "Harvesting Justice Together" T-Shirt  ($20)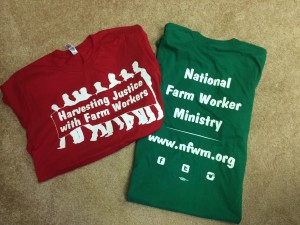 NFWM high quality cotton t-shirts are union made and union printed in the USA.
Available in: Red, Black & Green. Sizes:  S, M, L, XL
Your donation of $20 or more, supports NFWM's work for justice with farm workers AND you get a cool t-shirt to spread the word! (Payment information below.)
---
Set of Four NFWM Note Cards ($5)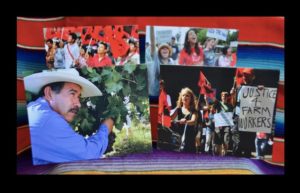 This union-printed note card set of 4 features images of NFWM, YAYA and our farm worker partners in action. The cards are standard (4 1/4 x 5 1/2) size, blank inside and come with envelopes.
Your donation of $5 or more gets you a set of 4. (Payment information below.)
---
There are TWO ways to Pay
By Credit Card
Note: If you want your NFWM goodies sent to an address that's different than what's on your credit card, enter that address in the "memo line." Also include the number of t-shirts, bags or note card sets you are ordering. For t-shirts, include the size(s), and color(s) you need. Ex. "two t-shirts, one in red (medium) and one in green (large)" That'll help us get the right order to you right away!
By Check
Note: Be sure to tell us what you want (shopping bag, t-shirt or note cards) and how many you'd like. Send a check made payable to "NFWM". Mail to: 112 Cox Ave,. Ste 208, Raleigh, NC  27605. We will ship your order by US Postal Service.