Harvesting Justice T-Shirts
NFWM's "Harvesting Justice Together" T-Shirt is a great way to show your support for the 2-3 million farm workers who labor to feed this nation.
This high quality cotton t-shirt is union made and union printed.
Colors available: Red, Black and Green.  Sizes available:  S, M, L, XL, XXL
Your donation of $20 or more, supports NFWM's work for justice with farm workers and best of all, you get a cool t-shirt to spread the word!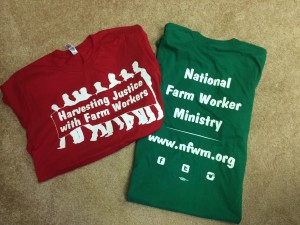 TO ORDER BY CREDIT CARD:
Order by donating $20 or more via our Network for Good donation process.
IMPORTANT NOTE:
Select Full Contact Information, so that we receive the mailing address to which we'll send the t-shirt.
In the designation box, enter the number of shirts you are ordering, the sizes, the colors you need and the words "T-Shirts", ie, "two t-shirts, one in red (medium) and one in green (large)" to help us understand your order.
To start the process, click HERE or on the "Donate Now" button on any page.
TO ORDER BY CHECK:
Send a check made payable to "NFWM".
Mail to: 112 Cox Ave,. Ste 208, Raleigh, NC  27605
Note: Be sure to tell us how many TSHIRTS, what SIZES and what COLOR!
SHIPPING:
We will ship your order via USPS.