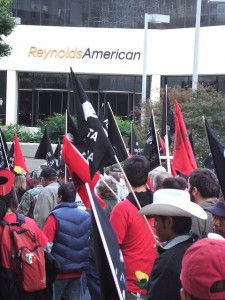 Because a great deal of injustice exists in our current agricultural system, farm workers are still organizing for justice and empowerment to improve their conditions. Some organizations leading this work today include:
Coalition of Immokalee Workers (CIW): A community-based organization in Southwest Florida that won a boycott against Taco Bell in 2005 that aimed to improve wages and working conditions of tomato pickers. Website
Farm Labor Organizing Committee (FLOC): A labor union in Ohio and North Carolina that pioneered three-way labor agreements between workers, growers and corporate food processors. In September 2004, FLOC won an historic contract with the Mt. Olive Pickle Company and the NC Growers Association. Website
Treeplanters & Farmworkers United of the Northwest (PCUN): Oregon's union for farm workers, nursery, and reforestation workers, whose goal is to empower farm workers to understand and take action against systematic exploitation. Website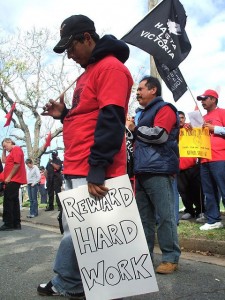 United Farm Workers (UFW): Founded by Cesar Chavez and Dolores Huerta, the UFW brought national attention to the farm worker cause in the 1960s and has since won union contracts in states across the country. Website
For more information about these farm worker organizations and current campaigns that the NFWM supports, visit our campaigns page.
Sections
Farm Workers in the United States » Agricultural Exceptionalism and Farm Worker Organizing » History of the National Farm Worker Ministry » Farm Worker Organizing Today » What You Can Do