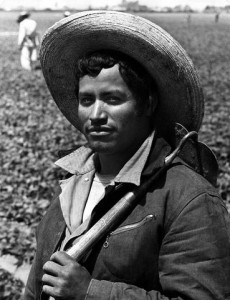 Farm workers were explicitly excluded from nearly all of the major federal labor laws passed in the 1930s, building a tradition of "agricultural exceptionalism" in which farm labor is not subject to the same regulations as the labor in other industries. Since that period, many farms in the United States have come to operate more and more like the factories whose laborers these laws intended to protect. Some laws have been amended to include workers on large farms, but exemptions remain in the following areas:
Labor Organizing: Farm workers were excluded from the National Labor Relations Act of 1935, which protects workers acting collectively to form unions.
Minimum Wages: The Fair Labor Standards Act of 1938 (FLSA) originally excluded all farm workers and was amended in 1978 to mandate minimum wage for workers on large farms only.
Overtime Pay: The FLSA has never been amended to provide overtime for farm workers, and only a few states have passed laws requiring it.
Child Labor Laws: The FLSA sets 12 as the minimum age for farm work, not 16 as in other jobs.
In part because of this tradition of exceptionalism, farm workers face unique challenges in organizing to improve the agricultural system. Major efforts to organize farm workers caught national attention and success for the first time in the 1950s and 1960s. In 1965, thousands of mostly Mexican and Filipino grape pickers in Delano, California went on what would become a historic five year strike for better wages and working conditions that eventually won contracts with grape growers in California. Farm workers and organizers like Cesar Chavez and Dolores Huerta together founded the United Farm Workers of America (UFWA) and helped bring the workers' struggles and efforts to create a more just and humane system to the attention of the nation by rallying support for the grape boycott. This helped to launch a farm worker justice movement which continues today.
Sections
Farm Workers in the United States » Agricultural Exceptionalism and Farm Worker Organizing » History of the National Farm Worker Ministry » Farm Worker Organizing Today » What You Can Do