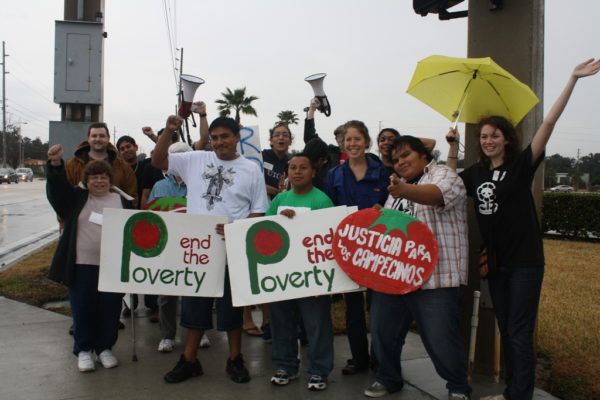 National Farm Worker Ministry brings together national denominations, state councils of churches, religious orders and congregations, and concerned individuals to act with the farm workers to achieve fundamental change in their living and working conditions.
Grounded in faith, NFWM works side by side with farm workers throughout the country, organizing vigils, picketing, coordinating boycotts and educating constituents.
"Without the religious support it would have been impossible to win our campaigns…the presence of NFWM has proved critical in many areas." Arturo Rodriguez, President, the United Farm Workers of America.
Left: Representatives from Unitarian Universalist Fellowship of Raleigh, Pullen Memorial Baptist Church, Eno River Unitarian Universalist Fellowship and National Farm Worker Ministry Executive Director, Rev. Lindsay Comstock joined FLOC President Baldemar Velasquez for a photo following the event: "Putting Our Faith Into Action" hosted in Raleigh, North Carolina.