YAYA Coordinator
daulisio@nfwm.org
---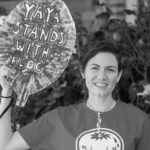 Dominique began volunteering with the National Farm Worker Ministry in 2007 as a freshman in college at the University of Central Florida. She was excited to become part of a movement led by farm workers fighting for concrete improvements to their working conditions and communities. As a student activist, it was refreshing to be in spaces where farm workers were putting theory into practice, rather than just talking about the changes they wanted to see in the world.
After college, Dominique volunteered as a human rights accompanier in Colombia with the Fellowship of Reconciliation. Working in a conflict zone inspired her to learn massage therapy as a method of self-care as well as an important tool for healing from trauma. Before joining the staff at NFWM, Dominique  worked as a massage therapist in Miami, FL.
Dominique is excited to bring her background in theatre and her experience as a student activist to her work with young people in NFWM's network. The older she gets, the more she understands the importance of fresh ideas and young leadership as we continue fighting for justice alongside farm workers.