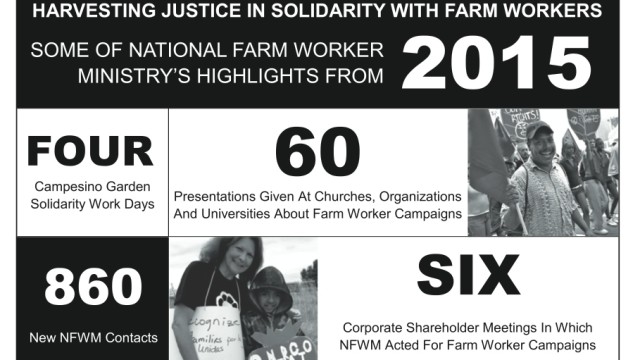 NFWM is truly humbled and honored to work in solidarity with our farm worker partners and supporters. Here's a snapshot of the year 2015 in review. We look forward to making 2016 a year to remember in the struggle for justice for farm workers!
In honor of its 40th anniversary as a national organization and 90 years of solidarity with farm workers, NFWM conducted oral history interviews this year with major supporters around the country. From those interviews, we have condensed over ten hours of audio to ten roughly two minute audio pieces accompanied by photo slideshows in order to […]
Today, October 24, is National Food Day! The organizers of National Food Day have partnered with groups across the country to have thousands of events that are oriented toward pushing for healthy, affordable food produced in a sustainable, human way. One of the six principles that Food Day has adopted is to "Support fair conditions […]
Ryan Nilsen, NFWM intern through Duke Divinity School In our evening outreach to farm workers over the past few weeks, Octavio and I have ended up being able to have quite a few conversations with farm owners as well as farm workers. We don't really seek them out (as most of them already speak English […]
Ryan Nilsen, NFWM intern through Duke Divinity School As Octavio and I walked up to the front step of an old trailer next to a tobacco field outside of Gibsonville, North Carolina, I asked him, "Do you mind speaking first again?" He smiled and said, "No problem, man." It was an early summer Sunday afternoon, […]
Ryan Nilsen, NFWM Intern Note: This sermon references Isaiah 5:1-7 and John 15:1-8. "Let me sing for my Beloved my love-song concerning his vineyard." Now, I'm not a very good singer, and I am not going to call myself an expert on love-songs, but did you all just hear what the prophet Isaiah is calling […]
Written by Octavio Garcia-Ruiz, NFWM intern through Student Action with Farmworkers. Sunday June 19th was the first day that we did outreach.  Driving out on the country roads felt good, like I was back home.  The camps that we went to were not too difficult to find.  The reason why were out there is not […]
Written by Octavio Garcia-Ruiz, NFWM intern through Student Action with Farmworkers. Starting the first full week of work felt real good, I was excited.  I finally started what I came here to do.  There many new things that were learned, some good, most bad because of of what they were.  They were about how farmworkers […]
Tess Browne, SCN, former NFWM Board member who represented her community, the Sisters of Charity of Nazareth, is now active with the Massachusetts Interfaith Committee for Worker Justice and has been participating them in actions in the Boston area to support the Coalition of Immokalee Workers' Campaign for Fair Food . On November 8, 2010, Tess and other activists delivered hundreds of postcards to Ahold USA, the parent company of Stop & Shop, one of the grocery chains CIW is targeting in its campaign, and sought a meeting with Ahold representatives.
Although they were denied a meeting then, CIW allies in the Boston area were able, this February,t o speak with Harriet Hentges, Ahold USA's Vice President for Corporate Responsibility, about the supermarket chain's refusal to sign a Fair Food agreement with the CIW . These activities are in preparation for CIW's "Do the Right Thing" Tour in the Northeast. On Sunday, February 27th, marchers will gather in Copley Square for a peaceful rally featuring live music and addresses from CIW members and allies, then march to the Brigham Circle Stop & Shop grocery store. There, the march will culminate in a spirited action calling on Ahold USA to do its part to end farm worker abuse and exploitation! For more information on the tour, click HERE.


Tess Browne, SCN, second from left, and Boston faith allies deliver hundreds of postcards to Stop & Shop headquarters in Boston last November.






David Haney is a member of the St Paul Catholic Church since 1995 and a member of the Pinellas Support Committee since 2003. Maria McCourt is a NFWM Board Member and Coordinator of the Pinellas Support Committee in Florida.
A Santa Story by David Haney

Maria and I, with the help of many wonderful supporters, contributors, and volunteers, visited some twenty migrant farm worker camps in Plant City and Dover each year providing these workers with food, clothing and Christmas gifts during the long winter months when they have little work and meager pay checks. This year we provided Christmas gifts to nearly 770 children.
One of the many generous contributors during the past two years has been Country Park Trailer Park, a 55+ community located in Clearwater, Florida. Most of these volunteers live up north but fly south to Clearwater during the winter months (Snow Geese). Many of the Country Park residents collected money and graciously provided Christmas Gifts to about 14 migrant families, living at a migrant camp outside of Plant City. A dozen of these Country Park residents and I drove in a convoy to a pre-designated migrant camp, our vehicles loaded with Christmas gifts, food, clothing items, and lots of Christmas cheer. As we arrived, we all got out of our vehicles and donned our red & white Santa hats. We knocked on the door of each of the six trailers, one by one. These individual "Santa's" provided each family with Christmas gifts for each child, an impressive amount of food, a Christmas card, and some clothing. Then the Country Park volunteers sang "We Wish you a Merry Christmas" and "Feliz Navidad" before heading out to the next trailer, until all six trailers were visited.
While we were visiting each family in our Santa hats, singing Christmas songs, and delivering the bundles of toys, food and clothing, a small boy came running over to our group from across the street with a letter in his hand. No one knew who he was, running over by himself from a distant trailer. He wasn't a resident of the trailer park we were visiting but it was difficult to ignore his enthusiasm. The boy, no older that seven years old, handed one of our volunteers a letter and then quickly disappeared back to his parent's trailer, across the street. The top of the letter had a drawing of Santa Claus, where the little boy colored in Santa's rose colored cheeks and large red hat. Underneath the Santa drawing were lines where the elementary grade teacher obviously instructed her little students to write a letter to Santa, using their best writing skills.
"Dear Santa Claus, How are you…would like 1….2….3. I like to hav a meshen tomes and two cars and I like three backogans", signed Rigoberto.