Boycott Reynolds American VUSE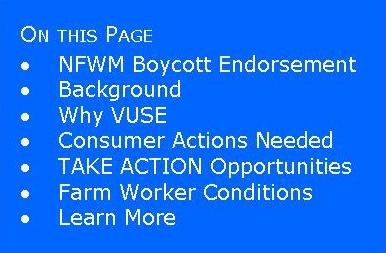 NATIONAL FARM WORKER MINISTRY ENDORSES
FLOC BOYCOTT OF REYNOLDS VUSE
On January 27, 2018, the NFWM Board of Directors voted to endorse the Farm Labor Organizing Committee's (FLOC) boycott of Reynolds American VUSE e-cigarette. The board committed the resources of NFWM to supporting FLOC until farm workers in the tobacco supply chain have a voice in the work place without fear of retaliation.
Read the Resolution of the National Farm Worker Ministry Endorsing the Farm Labor Organizing Committee (FLOC) Boycott of VUSE E-cigarettes, a product of British American Tobacco and Reynolds American.
NFWM has sent a letter to Ricardo Oberlander, Reynolds CEO, and Nicandro Durante, Chief Executive of British American Tobacco, parent company of Reynolds since 2017, informing them of the boycott endorsement. That letter states, in part,
"Now is the time for Reynolds American to sign a negotiated agreement with FLOC that will guarantee freedom of association and provide a practical mechanism for addressing worker grievances.  This is the best way for British American Tobacco and Reynolds American, its subsidiary, to comply with your stated Principles of Good Corporate Conduct. It is also the best way to improve the living and working conditions of tobacco farm workers in your supply chain."
Read the 2/26/18 Letter to Reynolds American/BAT
BACKGROUND
For ten years, farm workers and their allies, including NFWM, have asked Reynolds American Inc. to work with the Farm Labor Organizing Committee (FLOC) to end abuses and human rights violations in their supply chain. For five years, we heard "any problems are not our responsibility." Since the 2012 announcement that Reynolds would engage in multi-stakeholder talks, all FLOC has gotten from the talks is dead-end discussions and suggestions for band-aid solutions.
And so the farm worker members of FLOC voted to call for the boycott to make it clear to the company that the status quo cannot continue. UNTIL REYNOLDS SIGNS AN AGREEMENT GUARANTEEING WORKERS IN THEIR SUPPLY CHAIN FREEDOM OF ASSOCIATION AND THE RIGHT TO COLLECTIVE BARGAINING, JOIN US IN BOYCOTTING THE VUSE E-CIGARETTE!
WHY BOYCOTT VUSE?
The e-cigarette is Reynolds' hallmark product & is sold at most convenience stores.  Thirty-six percent of tobacco sales are via convenience stores.  FLOC and its allies have made significant efforts to communicate with the corporate officers of 7-11, Circle K (Kangaroo etc) and WAWA convenience store chains, but the chains have not responded to repeated letters and emails.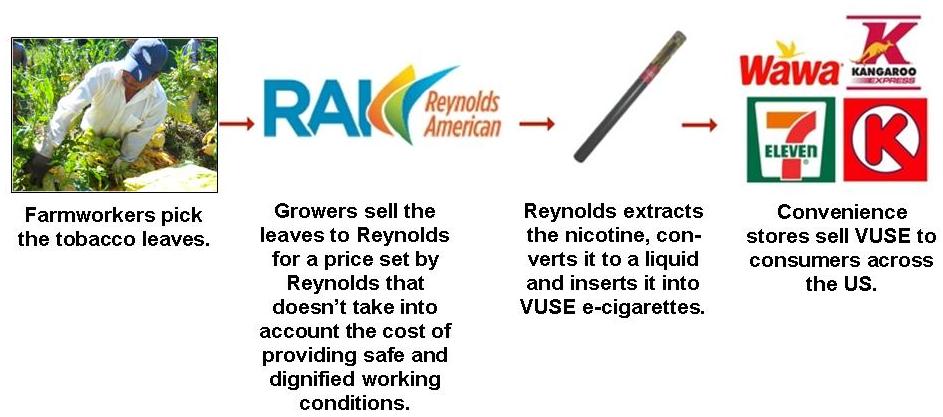 WE NEED YOU!!  FARM WORKERS ARE
COUNTING ON YOUR SUPPORT.
Consumer and supporter actions are key to putting greater pressure on Reynolds American to come to the table in good faith. Some campaign actions will directly target Reynolds (and its parent company British American Tobacco); others will target convenience store chains to put pressure on Reynolds for the sake of profits and consumer relations.  PLEASE, act today and help us stop farm worker exploitation.
TAKE ACTION:
SIGN FLOC'S NATIONAL PETITION to the corporate officers of 7-11, Couche Tard (Circle K and Kangaroo), and WAWA convenience store chains urging them  to support the Reynolds American VUSE e-cigarette boycott by removing the product from their shelves until Reynolds signs an agreement with FLOC guaranteeing farm workers in their supply chain freedom of association.
Write a short letter to Reynolds and mail to: Ricardo Oberlander, CEO, Reynolds American, 401 N. Main St., Winston-Salem, NC 27101-2990
In your networks, seek organizational and congregational endorsements of the VUSE boycott. Use NFWM resolution as a template.

Promote the boycott endorsement in social media;
let Reynolds CEO know about it;
and send a copy of the endorsement to FLOC at  boycottvuse@floc.com. & NFWM at nfwm@nfwm.org.

Take a Convenience Store Manager Letter to a 7-11, Circle K (Kangaroo) and WAWA near you & ask them to communicate with the corporate office your call to take VUSE off their shelves.   Manager Letter in Word   Manager Letter as PDF
Participate in an action at a WAWA, Circle K (Kangaroo)  or 7/11 convenience store, demanding that the store stops selling VUSE products until Reynolds signs an agreement with FLOC. FLOC & its allies will be organizing monthly convenience store actions in cities around the U.S. To locate an action near you or for assistance in organizing your own action, contact Susan Alan at 919-807-8707 or  nfwm@nfwm.org.
WHEN YOU HAVE TAKEN ACTION, PLEASE LET US KNOW ABOUT IT.
FARM WORKER CONDITIONS
Poverty Wages: The price of tobacco has remained stagnant for over two decades. As a result, growers pay their workers poverty wages, and there is rampant wage theft. Many children have to work in the fields to support their families.
Dangerous Working Conditions: Farm labor is one of the most dangerous jobs in the US. Tobacco farm workers frequently suffer from acute nicotine poisoning or "green tobacco sickness," as well as heat stroke and pesticide exposure.
Lack of Voice in the Workplace: Because farm workers are excluded from many federal labor laws passed in the 1930s, farm workers aren't guaranteed freedom of association or protections for joining a union or collective bargaining. Fear of retaliation and blacklisting leaves farm workers in a dangerous and precarious situation that discourages them from speaking out against abuse and exploitation. Until workers have a collective voice in their workplace, these abuses will continue.
LEARN MORE
Download FLOC's Boycott One-Pager to share and visit FLOC.com for more campaign materials and news.
How have people of faith & conscience been supporting FLOC's campaign for justice in the tobacco fields?
Why is freedom of association and a union contract so important to righting the wrongs farm workers face every day?  Here is part of the reason –  during the 2017 season contract between FLOC and the NC Growers Association, 718 grievance were resolved  totaling approximately  $400K  in workers' favor. See FLOC's  2017 Grievance Report.
What is Freedom of Association? 
Why is FLOC launching the boycott in April?  To honor Santiago Rafael Cruz, a FLOC Organizer who was murdered in the FLOC Mexico office in 2009.