To read or hear the full interview, contact Ryan Nilsen at nc@nfwm.org.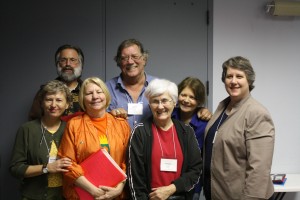 Suzanne Darweesh discusses the meaning of Jesus' instructions to care for the poor in the context of the oppression of farm workers, supporting farm worker unions, and the difference between having a generous heart and doing justice.
Olgha Sierra Sandman discusses her involvement with NFWM's early support of the UFW during the grape boycott and their campaign with Coca Cola. 
Ed Brandt discusses various faith communities' support of the farm worker movement, the need for collective bargaining rights, the mutual need between farm workers and churches in the United States, and why people should get involved with the work of NFWM today. 
Bert Perry discusses the effects of changing agricultural workforces on labor organizing and her perspective on why people should get involved with the work of NFWM. 
David Wildman discusses a Biblical argument for taking the lead from farm workers by looking to the story of Nehemiah and also referencing the ancient Hebrew prophets Isaiah and Micah. 
Dominique Aulisio tells the stories of different campaigns and projects that the Orlando Youth and Young Adults (YAYA) of NFWM have undertaken, including a bicycle project they developed with the farmworker organization Alianza de Mujeres Activas and the impact it had on both students and the workers involved.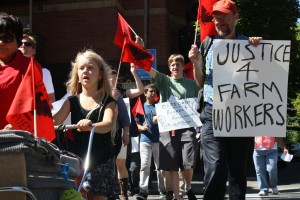 Dave Austin discusses his experience being involved with the FLOC's Mt. Olive Pickle Boycott, going to FLOC worker meetings, and the importance of NFWM's support of worker organizing. 
Lucy Boutte describes how she first got involved with the farm worker movement and the difference between charity and justice in the work of NFWM. 
Sam Trickey discusses tensions that he experienced at his job because of his outspoken support of farm worker organizing and also tells a story about Cesar Chavez's interactions with his son when he was a young boy. 
Alexandria Jones discusses her response to farmworker deaths in California, attending her first FLOC meeting, and the difference between being voiceless and having your voice silenced.