Associate Director of Operations and Organizational Development
salan@nfwm.org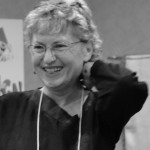 When people ask Susan, 'What do you do at NFWM?' she usually responds, "Whatever needs doing." Susan is a problem solver, so she likes figuring out how to get things done.
Susan has worked at NFWM since 2001 in administrative, fundraising and programmatic capacities. She greatly enjoys the variety of responsibilities she has had over the years.
Hands down, though Susan says, it is the people involved in the Ministry who keep her here and who feed her spirit. For a long time she has had the privilege of writing our thank you notes to donors; knowing so many people who care about NFWM by name, even if she has never met them, is a joy.
And then there is the staff – Susan says that over the years she's worked with some of the most amazing people, like the staff we have now. And as for NFWM's board members now and in the past, "I am convinced that I will never know nor have the honor to work with more passionate, wise, caring and funny people."
When the national office moved from St. Louis to Raleigh, Susan moved with it. She's very glad that being in a farm worker rich state is allowing her more opportunities to work with farm workers, with the staff of our farm worker partner organizations and with committed supporters around the country. Susan considers herself blessed.